FASHION
Corporate couture
Aakriti Sinha and Gulneet Kohli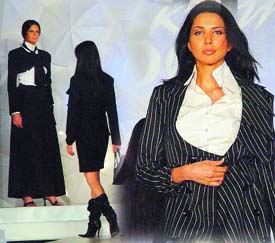 The young professionals at MNCs are making new fashion statements. With the growth of MNCs in India and heavy pay packets, the average living standard of the middle class has gone up. It has glamorised office-life; there has been a change in the monotonous 'babu-type' image of workers to the more posh and desirable corporate-type. Because of this, the young rich, getting good pay packages have become more conscious of their appearance and fashion, in the office as well as outside it.
According to a market survey, India's leisure and lifestyle trends will be enormously backed by the newfound young-rich power. With more money to spend on themselves, they know how to use it to look good. Since looking 'presentable' is cool these days, therefore the young-rich do not think twice about loosening their purse strings and buying quality and chic stuff. The plus-30 age group is where disposable incomes have gone up the fastest so they tend to upgrade and experiment the most. Since the young-rich believe in working hard and playing hard, they also tend to spend much on party wear and accessories besides the office and casual wear.
This segment is more brand conscious and hence their earnings go into picking up labelled wear. This has affected the fashion and lifestyle industry in an affirmative way. There's an incredible variety of formals and party wear available in the market than it has ever been.
This has resulted in more options and selection. Today, young women on an average spend up to Rs 3,000 and more on every shopping spree. Their priority is good quality and elegant stuff even if it costs high. These picky young women are aware of the hot trends and they shop accordingly. For office wear, girls are going for dresses that are elegant, comfortable and contemporary. An assortment of office outfits is available at brand-stores and lifestyle shops.
Among the choices available are power suits or business suits such as those adorned by 'Mallika' in Jassi Jaissi Koi Nahi, which are classy as well as comfy. One can accessorise them with smart scarves, slender jewellery and formal footwear.
Other favourites among office wear are skirts and shirts. Skirts can be knee-length, calf-length or ankle-length, depending upon individual preference. One thing to keep in mind while wearing skirts is that they shouldn't be too short and revealing.
As for formal shirts, they come in a wide range: striped, printed, plain and in solid colours. The accessories are the same as for business-suits, though one can always try something unique. Sleeves can be half, three-fourths or even full. Though in summers, girls prefer cut-sleeves, it is always good to wear sleeved shirts in office, as they look more graceful. The colours should be mild and classic. Avoid loud and dazzling shades in office, especially fluorescents. Trousers and shirts never fade from fashion. For semi-formals, one can always team up a formal shirt with jeans.
For Indian wear, go for suits with normal salwars or even churidars. But, please, no parallels, as they have been long out of fashion. One can wear a variety of accessories with suits, like a handful of slender bangles and big loops. As for special occasions in office, one can always wear a gorgeous chiffon or georgette saree, which is neither too revealing nor too complicated. It will go off well with stone-studded jewellery.
For office casuals go for simple tees and kurtis. Occasionally, one can combine a nice kurti with a solid-coloured flowing skirt. Avoid flashy and glossy outfits.
Torn jeans, bandanas, tube tops and tank tops are a complete no-no in office. Please keep them for your weekend parties and bashes, though you can wear trendy belts and sports shoes with your casual wear.
Girls alone are not conscious of changing office trends. Even young men are going by contemporary styles. For boardrooms and meetings, it is the business suit for men. It looks elegant and gives an aura of power and authority. For normal office days, men can wear shirts. On casual days, they can opt for T-shirts and jeans.
But avoid low-waist jeans, three-fourth pants and floaters in office. Also, any kind of body piercing looks disgusting in office. Good-smelling men are always a big turn-on for women so please use a nice deodorant or perfume. But do not overdo it as that could act like a repellent.
Also, shave regularly and sport a pleasant hairstyle. Long hair are a complete no-no for men. — MF