The Kanishka Bombing, 20 years on
Lest we forget
On June 23, 1985, a bomb tore through Air-India Flight 182 Kanishka, from Canada to India, killing all 329 people aboard. Ajit Jain pieces together tragedy-scarred memories to retell a tale of bereavement, grit, empathy and justice denied.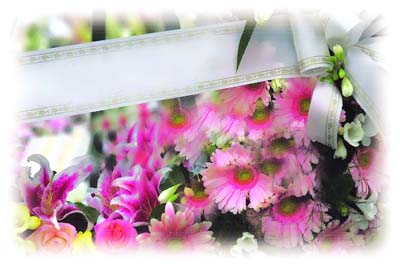 BUT for a Bharatanatyam recital in Bangalore, Lata Pada would have been aboard the Kanishka, like her husband Vishnu and their daughters Brinda and Arti were.
Pada left her family in Sudbury, Ontario, a few days before June 23, 1985, to practise with her guru in Mumbai, "for a major upcoming performance.
"My elder daughter Brinda had just graduated from high school. That's why they stayed back," recalls Pada, a dancer and choreographer.
Vishnu, a geologist with the INCO mining company, had been instrumental in organising a multi-faith prayer in their city when Prime Minister Indira Gandhi was assassinated in October 1984. He died on the flight most believe was blown up by the same fundamentalist 'movement' that targeted the Prime Minister.
"It was around mid-day (June 23, 1985) when I got a call from my brother Ramesh Srinivasan (who was then working for Oberoi hotels). He was checking the arrival time of the flight.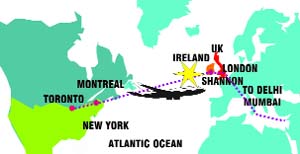 Map showing the Kanishka crash site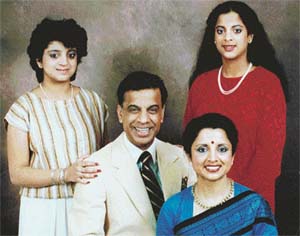 A family, a statistic: Lata Pada (right, foreground) with her family

"They just said there has been a problem with the Air-India flight," says Pada, her voice choking over the telephone.
"But when he got the second message that the flight had disappeared from the radar screen and they were fearing the plane had gone down and there were no survivors, it was then that he called me.....
"At that moment my life was completely destroyed."
She did not cry. "I was completely in shock. They (her relatives) had to sedate me that night because they had no idea how I would cope with it."
Susheel Gupta was 12 years old — too young to "understand the concept of death, philosophically and spiritually" — when his mother boarded the Kanishka. The tragedy shaped what he is — a criminal lawyer with the Federal Justice Department in Ottawa, and a leader of the Air-India Victims Families Association.
"That's why I chose criminal law over corporate law. I felt I have a personal connection to being a victim."
For Dr Haran Radhakrishnan, who lost his wife and two children, "There was a feeling of disbelief. And that disbelief still continues. It will go on forever."
Lorna Kelly, who lives in Guelph, Ontario, was 20 years old when she lost her mother Barsa Kelly in the Kanishka bombing. Her father, a "very private person," lives apart. Does she still think of that day 20 years ago? "Of course. Almost every day. It destroyed our family. Because my mother was the centre of our family."
1985, June 23, 0218 GMT : Air-India Flight 182, a Boeing 747, Kanishka leaves Montreal, where it had a stopover, for London, en route to Delhi and Mumbai, with 329 persons aboard.
1985, June 23, 6.20 GMT: A bomb in a suitcase being transferred to an Air-India flight to Bangkok explodes in the baggage handling section at Japan's Narita airport, killing two baggage handlers and injuring four.
1985, June 23, 7.14 GMT: The Kanishka disappears from the radar screen at Shannon airport, Ireland. The plane explodes in mid-air near the coast of Ireland. All aboard are killed. Of the dead, 278 are Canadians.
1985, June 24: Wreckage found under 2,010 metres of water off Ireland. Investigators suspect a bomb blew up the aircraft. Later in the year, then Prime Minister Rajiv Gandhi issues an inquiry commission to investigate the bombing.
1985, September 10:Inderjit Singh Reyat and Talwinder Singh Parmar, members of Babbar Khalsa, are arrested in Duncan, Vancouver Island, in connection with the Narita bombing. Charges against Parmar are dropped for the lack of evidence. Reyat is fined for a minor explosives charge. No link to the Kanishka case is established.
1986, January 22: The Canadian Aviation Safety Board confirms a bomb was responsible for the tragedy.
1988, February 5: Inderjit Singh Reyat arrested in England for Narita bombing. Parmar flees to India.
1988, August 10: England orders Reyat's extradition to Canada.
1988, November 18: Tara Singh Hayer, a Kanishka bombing trial witness, is murdered at his home in Surrey, Canada.
1991, May 10: Reyat receives a 10-year sentence for manslaughter and explosive charges related to the Narita bombing. He is jailed at Abbotsford jail in British Columbia.
1992, October 15: Indian police in Mumbai kill Talwinder Singh Parmar in a gun fight.
2000, October 27: Royal Canadian Mounted Police arrest Ripudaman Singh Malik and Ajaib Singh Bagri, based in Canada, for their alleged role in the Kanishka bombing.
2003, February 10: Reyat pleads guilty to a charge of aiding in the construction of a bomb and is sentenced to five years imprisonment.
2005, March 16: British Columbia Supreme Court Judge Ian Bruce Josephson acquits Malik and Bagri of murder and other charges in the deaths of the people killed on the Kanishka.
2005, March: Enraged families and relatives of the Kanishka victims demand a public inquiry.
2005, April 27: Former Ontario premier Rob Rae appointed to review the Kanishka bombing trial and determine whether a public inquiry is essential.
Grief & bonding
In Mumbai, Air-India told the families the rescue operation was on, but they did not expect any survivors. They asked the families to come to Ireland, off the coast of which the flight had crashed, immediately. The airline made the travel arrangements. At the Cork airport in Ireland, the then Indian ambassador Kiran Doshi and his wife Razia were there to meet with the families.
"They shuttled back and forth receiving family members one after the other, escorting them to their hotels, enquiring about their well-being, asking about their special needs and just being very comforting," recalls Pada.
The land of leprechauns and shamrocks opened its heart for the bereaved. Taxi drivers would not accept money. Volunteers escorted the families, policemen politely explained the formalities of identifying the bodies.
"Had that terrible disaster not happened, we would never have known a nation of the kindest people in the world — the most compassionate," says Pada. "Strangers opened up their homes to us and their sense of identification with our grief was unimaginable. They kept saying, 'We are a seafaring nation and we have grown up all our lives knowing what disaster is."
Irish comfort
The Irish "felt a particular connection to India," Pada adds, because "they identified with their own desire to shake of (British) colonial rule. They also have a great deal of admiration for Mahatma Gandhi and the path of non-violence. They really felt a great kinship with the (victims) relatives."
Kelly echoes Pada's memories of Cork. "We felt we were immediately embraced by an almost family-like atmosphere."
The helpfulness and empathy of the Irish "was extremely comforting," she says. She still corresponds with a police officer she met there.
Lives on the wall
At a hospital in Cork, the families were taken to a wall full of pictures of the recovered bodies — 131 of them. One hundred and thirty one families that were lucky to catch a last glimpse of their loved ones, or what remained of them.
Gupta remembers he was the only child there. Others had not brought their children with them. "My father had no choice as my brother, then 18, was off for work and there was nobody who could take care of me."
He remembers they looked at each picture before "we were able to find the picture of my mother. When we finally came to my mom, it was terrifying."
For Gupta's father Bal, the horror was magnified when he "came across pictures of many families he had known for 30 years. He didn't know they were on the flight — friends he had not seen for 10 to 15 years, friends with whom he had immigrated to Canada back in the late 1960s. He was able to identify at least eight other families on that plane.
"Later that day, they allowed us to view the body for confirmation. I still see images of her lying on a metal table."
He felt "distraught and confused. As far as I could see, her body was intact. They told us some bodies had missing limbs, some were burnt, but my mom's body looked intact. I didn't understand why a machine couldn't help her move, why she wouldn't wake up."
They took his mother's body to New Delhi. "I remember this vividly because as the only son present I lit the pyre," he says.


With Barsa's death, the Kellys lost their 'centre'
Pada did not have the heart to go through the ordeal of spotting her flesh and blood pinned up on the wall. "I just couldn't bring myself to go inside the hospital to do it. I waited in the chapel outside and they (her relatives) went in. We were able to find Brinda and Arti but not Vishnu. By God's grace they were pretty intact."
For years, she lived with the ache of not being able to have "the physical experience of saying a final goodbye" to her husband. "It hovers in your mind. I would often wake up with the dream of him having returned."
Kelly found her mother's body. She realises, "We were actually one of the fortunate few. We took my mother's ashes to Calcutta."
Many said their final goodbyes in a Cork crematorium. "It was a bizarre scene," says Pada. "Hundreds of relatives, all walking around dazed and numbed, each trying to be supportive of the other. To cope with their personal pain in a bizarre way, people were going around congratulating other families that had been successful in retrieving bodies."
Learning to cope
Pada went back to Sudbury, where "the whole city was out." The community arranged a multi-faith prayer service for her husband Vishnu, like he had done for the murder of Indira Gandhi. "It is very ironic that these people had to do that for him. The whole community turned out".
Pada sold her house and moved back to Mumbai where she immersed herself in dance. It was her way of coping. After five years in India, she returned to Toronto. "After all, this is my home. This is where I wanted to be. This is where I wanted to start my new career."
Pada, an accomplished dancer, has now become "a real champion of the arts being a very, very important tool for social and personal change."
Does time heal the scars? Does she still dream of her husband returning? "Not so often now," she says softly. "There are moments that are very difficult to cope (with) and I don't know if I have the strength."
But she says she has found peace. "I think the spiritual journey had begun from that moment (of loss). I could feel those changes happening within me as I was beginning to accept the inevitability of something like this — much as I questioned why it happened."
Gupta "made a decision I would somehow, if I could, either serve the community or work in the justice system. Because the senselessness of the crime — innocents (killed) who had nothing to do with political goals — made me realise how unfair the world is. My father has always raised me to help those who are in need whenever possible. He guided me and gave me the strength to be where I am today.
"I feel proud working in the Justice Department, doing my part to make the country safer."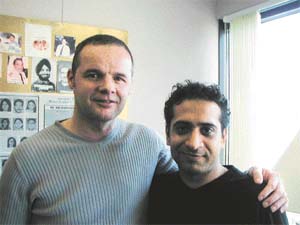 Bonds of tragedy: Susheel Gupta (right) with Daniel Brown, an Irish sailor who was member of a rescue team
Revisiting grief
Gupta attended the memorial service in Cork to mark the 20th anniversary of the tragedy — of which Canadian Prime Minister Paul Martin was a part. So did Pada, "to make peace with myself."
"Because I believe we waited 20 years hoping that some day — none of us from the families ever sought retribution — we would know their lives were not (lost) in vain," says Pada.
"At least their lives could point to generations of future Canadians that the Air-India tragedy is one indication how systems break down in a country. And how something like that should never happen."
Kelly did not want to revisit the grief. "I did not want to go to Ireland for the 20th anniversary," she says. "I am talking to a lot of my friends. And they all just bring back a lot of emotions — how we felt there, feelings of utter disbelief and remorse. Just seeing how many families were destroyed. I will always think that day was the destruction of our family.
"I am now 40," she adds. "We see the members (of the Victims Families Association) getting elderly.
"When the 30th anniversary comes many, many of these people are not going to be around."
The horror
Life has moved on for the Kanishka victims' families. The grief, as it always does, has dulled. But the sense of incredulity, indignation and frustration has remained the same. They feel the 329 lives could have been saved had the Canadian government been more alert to the threat. Most families point out there were warnings from the American FBI that went unheeded.
"We have learnt to cope with it (the loss) but the bigger issue is the government must continue to fortify itself and continue to be ever ready for another act of terrorism," says Pada. Otherwise, "it will be very, very irresponsible on their part.
"There was enough evidence that some catastrophe like this was being planned," she adds.
"There's no doubt there was a failure there. The fact that we believe it could have been prevented deepens our wounds further," says Radhakrishnan. The acquittal of the two main accused in the bombing case has convinced him that "the Canadian justice system has failed us. And the Canadian justice system works more in favour of the criminals than the victims."
Rob Alexander lost his father Dr A.M. Alexander in the tragedy. "People should remember what happened. The flight was mainly full of Canadians, my father included. The Canadian community at large should remember that the plane was not just full of Indians but Canadians too.
"They should remember it was one of the first acts of terrorism, one of the worst in the world. Canadians should realise that if nothing has happened since that horrendous act of terrorism, that should be a bit of a wake-up call too.
"I think it (the tragedy) was due to the lack of understanding of the complexity of the issue (the demand for a Sikh state, Khalistan) in Canada," says Pada, "a lack of cultural sensitivity on the part of the law-enforcement agencies.
"It is so important for all Canadians to know that when you entrust your life, the law-enforcement agencies are doing the right job for you," she adds. She feels "there was a weakness in the system."
She wants to "tell other family members — and Canadians at large — that they must realise that internationally Canada is being seen as soft on terrorism. That is not a very nice reputation to have.
"Canada has to understand that the demographics are suggesting that we have communities here from different cultural backgrounds who are great assets to Canada. But at the same time we are also having to condemn and combat certain ideological issues that they bring with them. So, we have to raise the bar of preparedness. We cannot presume that Canada is the same as it was 20 years ago."
She is not sure whether Canada has learnt the lesson of one of the most horrendous acts of terrorism in history. For her, the saddest part is that "we are still in denial mode."
How do you close such a painful chapter of so many lives? Gupta says most "can't begin closure even if they want to. I would think closure can truly start once the public inquiry is completed and we have the answers why our government failed to protect us and why the government failed to arrive at the truth.
"That's where, I hope, you can call it closure."
Courtsey: India Abroad, Toronto