ENTER HOLLYWOOD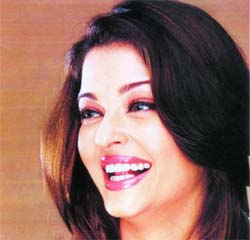 Aishwarya Rai
Aishwarya Rai begins work on her first major Hollywood project this August, silencing cynics who thought the beauty was making up stories about an international career.
Last Legion, an action-adventure film featuring Ben Kingsley of Gandhi fame and Colin Firth and set during the fall of the Roman empire, has Aishwarya as the female lead. The movie will be shot in Tunisia, Italy and Slovakia.
After Paul Bergesí Mistress Of Spices and Jagmohan Mundhraís Provoked, where she plays Indian characters, Last Legion will see her playing a character not binding her to her nationality. Itís reliably learnt that the movie has a $70 million budget.
Ash said: "There never was any doubt in my mind about which way my career abroad would go. But the doubters back home seemed to feel I was imagining the offers.
"Yes, Iíve been offered several international projects, including the latest Will Smith comedy Hitch which I couldnít do because of date problems. When it came to choosing between a film in Bollywood and an international project, I was very clear that Iíd always opt for the former. Last Legion is being produced by the company of the late Dino de Laurentiis that produced classics like War and Peace, Silence Of The Lambs and Diabolique."
So positive was the buzz about the film at the Cannes Film Festival last month that Harvey Weinstein, the ex-chief of Miramax, immediately bought the North American distribution rights.
Doug Lefler, who directed episodes on the TV series, Hercules, and served as first assistant director on Spiderman, will make his debut as a feature film director with Last Legion. ó IANS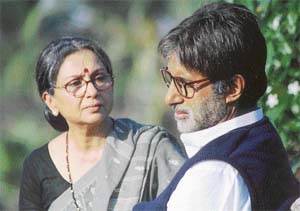 Amitabh Bachchan and Sharmila Tagore come together in a film after 22 years
IN a unique attempt to extend the theme of the film into the real lives of the people, AB Corp and Satyajeet Moviesí Viruddh has partnered with Star Plus to conduct a nationwide search for an ideal senior couple. Viruddh: Talaash Ed Adarsh Jodi Kii is a search for a couple that has seen the ups and downs of life together, those who have battled against serious odds and emerged triumphant as they stuck to each other.
One of the primary conditions for someone to take part in the show is that the couple should have spent at least 25 years with each other. Though the format of the television show is that of a contest, the idea behind the initiative is to focus on senior couples and their lives.
Viruddh is a story about an ordinary, middle class, 60-plus couple who are forced to search for their faith in human values and society after the death of their only son. In this process, they undergo the most testing struggle of their lives. The film also marks the coming together of Amitabh Bachchan and Sharmila Tagore in a film after 22 years. John Abraham, Sanjay Dutt and Anusha Dandekar form the rest of the cast.
Viruddh is slated to release on July 22.