PUNJAB

HARYANA

JAMMU & KASHMIR

HIMACHAL

REGIONAL BRIEFS

NATION

OPINIONS

MAILBAG

BUSINESS

SPORTS

WORLD
Monday, July 11, 2005, Chandigarh, India
Updated at 3:00 am (IST)
Sonia buys peace till PM's US visit
Deadlock continues over BHEL disinvestment
New Delhi, July 10
Although the impasse continues over the BHEL disinvestment even after the meeting of UPA Chairperson Sonia Gandhi with Left leaders on Sunday for the second time in the last 10 days, both sides expressed optimism that the "matter will be amicably resolved."



Nation page: PM for taking up Kanishka case with Canada again



video: Communists refuse to budge on privatisation, Congress nurses hope. (28k, 56k)


CAST YOUR VOTE
Do you support the introduction of medical visa for foreigners who come to India for treatment?


FORUM

EDUCATION

JOBS & CAREERS

HEALTH & FITNESS

SCIENCE & TECHNOLOGY

SPORTS

SOCIETY

TRIBUNE CLASSIFIEDS

BRIDES WANTED

GROOMS WANTED

OTHERS

HOW TO PLACE ADVTS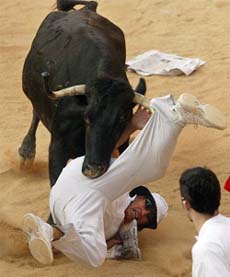 A reveller is tossed by a calf after the fourth bull run in a ring in Pamplona, Spain, on Sunday. — Reuters
Security scare in Birmingham, thousands evacuated
London, July 10
A "credible threat" forced the British police to sound an alert and evacuate over 30,000 persons in the bustling Birmingham city, but the warning was lifted later as none of the suspicious packages found proved to be "credible terrorist devices."



3 held at Heathrow Airport


Pakistani held with rail system map: report
India shocked at attacks on religious
places in UK
New Delhi, July 10
The Government of India today expressed deep shock at reports of attacks on places of worship of Sikhs and Muslims in the United Kingdom and described such attacks as an affront to the entire humanity.



Nation page: Attack on UK gurdwaras condemned
Islamic centres attacked in New Zealand
Auckland, July 10
At least four Islamic centres in New Zealand have been vandalised following the bombings in London claimed by Muslim militant groups, the police said today.
In Forum today
QUOTE OF THE DAY
This is an affair between Pakistan, Iran and us. This should be the end of the matter. We are not a client state.
— Manmohan Singh


THE TRIBUNE MAGAZINES
On Sundays

On Saturdays


Security of UP sites reviewed
Lucknow, July 10
A high-level meeting, chaired by Chief Secretary Neera Yadav, considered the revision of the security arrangement at Ayodhya, Mathura, Varanasi, the Taj Mahal and the Vidhan Sabha against possible terrorist attacks.
Manipur blockade continues
Three jawans killed in ambush
Imphal, July 10
Hundreds of passengers were stranded at many places in Manipur today during a Naga-student sponsored economic blockade for the second day, even as two India Reserve Battalion personnel were suspended for their role in alleged attack on agitators, official sources said.




Militants bought bags in Lucknow
July 10, 2005
PM upbeat on G-4 solidarity
July 9, 2005
TERROR STRIKES LONDON
July 8, 2005
PM rules out Pak hand in Ayodhya
July 7, 2005
6 ultras killed as they storm Ayodhya temple
July 6, 2005
TRS quits Cong govt in Andhra
July 5, 2005
Thackeray sacks Rane
July 4, 2005
PM favours no-first-use N-doctrine
July 3, 2005
Gujarat flood kills 94; 500 cr aid announced
July 2, 2005
Houses can be sold floor-wise
July 1, 2005