Till kingdom come
Shirish Joshi on the Air-India Maharaja who entered his 60th year this July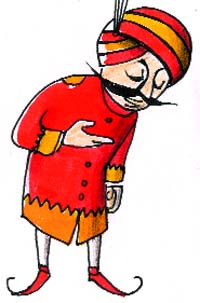 THE now familiar lovable figure, the Maharaja, first made his appearance way back in 1946, when Bobby Kooka, then A-Iís Commercial Director, and Umesh Rao, an artist with the advertising agency J. Walter Thompson Ltd, Mumbai, together created the Maharaja. Kooka conceived the idea of the Maharaja as an illustration for his letterhead. Bobby Kooka, who created the Maharaja, passed away in July 1996.
Eventually, it became Air-Indiaís mascot for its advertising and sales promotion activities. It became a symbol with which the national carrier is identified even today.
The Maharaja began merely as a rich Indian potentate, symbolising graciousness and high living. And somewhere along the line his creators gave him a distinctive personality, his outsized moustache, the striped turban and his aquiline nose.
At one time, the Maharaja triggered a controversy among politicians because they wondered how such a symbol could befit a nation practising socialism. Air-India did away with the Maharaja in 1989 for a brief period, but there was a hue and cry from various quarters and it was decided to bring him back.
Air-Indiaís hoarding at Nariman Point and Kemps Corner in Mumbai were very popular. Air-India calls him the Maharaja for want of a better description. But his blood isnít blue. He may look like royalty, but he isnít royal.
What began as a design for an in-flight memo pad grew to take Air-Indiaís sales and promotional messages to millions of travellers across the world.
Today, this naughty, diminutive Maharaja of Air-India has become a world figure. He can be a lover boy in Paris, a sumo wrestler in Tokyo, a pavement artist, a Red Indian, a monk. He can effortlessly flirt with the beauties of the world. And most importantly, he can get away with it all. Simply, because he is the Maharaja.
He has become the most recognisable mascot the world over. His antics, his expressions, his puns have allowed Air-India to promote its services with a unique panache and an unmatched sense of subtle humour. In fact, he has won numerous national and international awards for Air-India for humour and originality in publicity.
And, as with all great men, he too has had his critics. But the millions of travellers whose lives he has touched far outnumber them. In fact, to them, the Maharaja, with his inimitable style, charm and wit, is a very real person. Today, heís almost like a friend to every Air-India traveller, a friend who reaches out with warmth and hospitality, even to the farthest corners of the world.