Lines that linger
Long after a Hindi film has been watched, the one-liners that draw whistles remain etched in public memory. Surendra Miglani scans a range of films over the past few decades to pick out the memorable dialogues.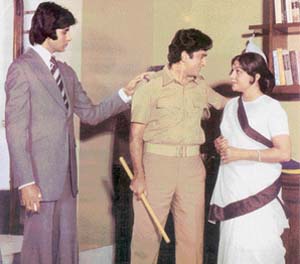 The oft-repeated 'Mere paas ma hai' from Deewar resounds even today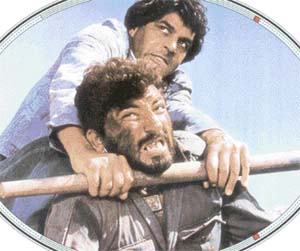 An all-time hit: Amjad Khan's lines from Sholay
IT happened sometime in the 1970s. Actor Prem Chopra's car had to make a halt at a railway crossing. Some passersby, on spotting the actor, mobbed him and insisted that he speak his famous one-liner, Prem...naam hai mera...Prem Chopra (from the film Bobby). Prem was quite reluctant to do so before a crowd at a public place. But the fans would not budge. Finally the actor had to give in. He "plainly" uttered the one-liner. But no, the mob would not take it. He must deliver the dialogue in the "style" with which he had done so in the film. The fans let him go only when he accepted their demand.
Narrating this incident later in a radio programme, the renowned screen villain confessed that this one dialogue had earned him more fame than any other dialogue or performance in his entire career.
This, then, is the magic of dialogue in films. In several cases, these have come to be associated so closely with the actors that they have ended up virtually becoming a part of their persona.
Take the case of Rajesh Khanna. At an awards function sometime ago, where he was presented a trophy for lifetime achievement, he said a few routine things. However, the hosts requested the first superstar of Hindi cinema to deliver his famous dialogue from Amar Prem (Pushpa, I hate tears!) and when the veteran actor obliged, he drew a thunderous applause from the huge audience.
In the post-1985 phase, whenever Amrish Puri would win an award or otherwise express his joy on stage, he would utter his extremely famous one-liner from Mr India (Mogambo khush hua) much to the delight of the audience.
In fact, in the early 1970s, Joginder's utterance of Ranga Khush in his own film, Bindiya aur Bandook (1973) had also become quite famous. The two words attained so much popularity that Joginder went on to make a movie titled Ranga Khush. However, later Ranga found his khushi being totally eclipsed by Mogambo.
When it comes to dialogue, one just cannot afford to ignore Sholay. The makers of the film were so overwhelmed by the popularity of its dialogues (penned by Salim-Javed) that they took the unprecedented step of bringing out albums of that. Whether it was Veeru (Dharmendra) or Jai (Amitabh Bachchan), the angrezon ke zamaane ke jailor (Asrani) or Soorma Bhopali (Jagdeep), their dialogues simply mesmerised the cine-goers. But the dialogues that attained the maximum popularity were those delivered by Gabbar Singh (Amjad Khan). And from among his lot, the one that continues to top the popularity charts even today is the one-liner, Kitne aadmi the?
Salim-Javed found competing with themselves when alongside Sholay another movie, Deewar, hit the screen in 1975. A number of its dialogues attained cult status but the one that came to be its hallmark was Mere paas maa hai. How popular the dialogue is even today can be gauged from the fact that in the recent feud between the Ambani brothers — Mukesh and Anil — the four words were used in a lighter vein by a website to explain the real-life situation.
Incidentally, in the Filmfare Awards race, Salim-Javed of Deewar beat Salim-Javed of Sholay.
Living legend Amitabh Bachchan made several dialogues famous with his unique voice and style of delivery. Who can forget his rebuke to Pran in Zanjeer (Ye police station hai, tumhare baap ka ghar nahin) or his bid to put Sanjeev Kumar to shame in Trishul (Aur aap mere najayaz baap hain)?
Mughal-e-Azam is an evergreen film that excelled in every department. Even 45 years after the release of the film, its Filmfare award-winning dialogue (penned by Aman, Kamal Amrohi, Wajahat Mirza and Ehsan Rizvi) contiue to haunt movie-lovers. Dialogue like Hum apne bete ke dhadakte hue dil ke liye liye Hindustan ki taqdeer nahin badal sakte and Mohabbat jo darti hai wo mohabbat nahin ayyashi hai, gunaah hai became so famous that the makers of the film used them as blurbs on the film's posters when the movie was released again recently after its colourisation. However, the dialogue that surpassed all others in popularity was Aur agar aisa na hua to Salim tumhein marne nahin dega aur Anarkali hum tumhein jeene nahin denge.
Raaj Kumar's unique style of dialogue delivery made him a darling of millions. So much so that filmmakers would instruct their dialogue writers to take extra pains to pack the dialogue meant for this actor with extraordinary punch. He made any number of dialogue famous with his effective delivery but the one that became most famous is Sheeshe ke gharon mein rehne wale doosron par patthar nahin fenka karte, Chinoy Seth in Waqt.
Ajit was yet another actor who became famous for delivering dialogues in his unique and inimitable style. Saara sheher mujhe "loin" ke naam se jaanta hai in Kalicharan (of course, he meant lion when he spoke loin) was possibly the most famous of the dialogues that made people coin what came to be known as "Ajit jokes".
C. S. Dubey's one-liner, Dhakkan khol ke in Zinda Dil, became so famous that it brought the character actor out of virtual obscurity. In fact, while presenting a programme on radio, he used these words as a suffix with almost every sentence to impart a touch of humour to the proceedings. Much later, we saw Ram Lakhan appending the surname of Bad man on Gulshan Grover .
Harishchandra Taramati (1963) had a song rendered by Lata Mangeshkar, Main ik nanha sa, main ik chhota sa bachcha hoon`85 The number did not turn out to be a very big hit. Interestingly, 26 years later, when it was rendered into a dialogue with a slight modification and Shakti Kapoor repeatedly uttered it in a comic vein in A. Purnachandra Rao's Chaalbaaz, (Balma, main ik nanha sa chhota sa pyala sa bachcha hoon), it came to be, well, his "trademark".
By the way, a great coincidence, is it not, that all these dialogues were delivered by male actors?