Where focus is on value education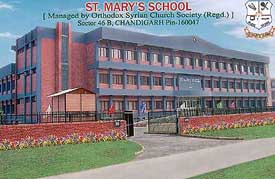 The building of St. Mary's School in Sector-46, Chandigarh
St. Mary's School, Sector 46B, Chandigarh, was founded on 15 August 1989, by Dr Poulose Mar Gregorios, a great scholar and famous educationist, with the aim of imparting quality education at affordable cost. The school is appropriately named after St. Mary, The mother of Lord Jesus, the symbol of love and compassion. The Orthodox Syrian Church of India, which has its HQ at Kottayam, Kerala, manages the school. It is an English medium, co-educational school, following the CBSE curriculum. The admission is open for all irrespective of creed and caste.
The motto of our school, By Love We Serve, is a constant reminder that we should serve others selflessly, graciously and with great love. By serving others, we serve God. The essence of God is none other than love. God created man in his own image and likeness and by loving and serving His creation, we love and serve God. We should not expect anything in return for our service because there is a greater pleasure in giving than in receiving.
Besides imparting knowledge, education involves overall development of a child's personality. Personality development is a task which requires experience, patience and persistence. Our well-qualified teachers have all these qualities in abundance. In today's materialistic world, children are exposed to the great peer group pressure and immense emotional stress.
Under such circumstances the basic human values such as mutual respect, honesty, and humility are often forgotten. Therefore, a lot of emphasis is laid to value education and character development. Our school is committed to groom our children into healthy, dynamic and responsible citizens of tomorrow. Every child is given individual attention and is taught to face this competitive world with confidence and courage.
The new school complex with the state-of-the-art facilities which was inaugurated in April, 2004, can boast of a sprawling campus with lush green lawns, spacious and ventilated classrooms and well-equipped computer room with multimedia projectors, a well-stocked library with large reading room, a conference hall and various sports facilities. The children are imparted education using the modern methods of teaching to make learning more interesting and rewarding.
Activities
The school has always been in forefront in sports and all extra-curricular activities like, martial arts, music, dance, debates, painting, art and craft. Students are encouraged and trained by qualified instructors in these activities since they play a major role in the overall development of the children. The school also has an Eco Club, Quiz club and a school choir. Regular seminars are organised in the school for motivating the staff.
Achievements
To name a few, Master Gaurav Shah "The little Master of St. Mary's" has represented our country in a recent Global Festival held at Dubai and Miss Arshpreet Kaur of Class VIII won a cash prize and a memento during a national-level essay competition held on conservation of petroleum products. The school was also awarded a cash prize and trophy for the same. Our students won prizes for slogan-writing and handwriting competitions held by the State Library Association. On Christmas our students won prizes in the inter-school carol singing competition conducted by the YMCA. Our students also participated in the Science Olympiad.
Social service activities
Besides providing fee concessions and educational scholarships to the economically backward children, the school provides free education to many needy children. Our students regularly visit the missionaries of charity and distribute clothes and medicines to the underprivileged children. With the contribution from our students, St. Mary's School donated Rs 45,000/- to the Indian Leprosy Foundation, Rs 16,500/- for Helpage Indian and Rs 25,000/- for SOS Children village during the last academic year.
The sole aim of our school is to build up character and capability of child for responding to the challenges of life with love and deep faith in God. Trained at St. Mary's, your child will become a self-reliant and socially valuable citizen whom you and the community can be proud of.