Medal hunter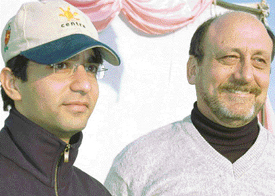 Abhinav Bindra is training hard to hit the bull's eye at the 2008 Beijing Olympics, writes Arvind Katyal
The Beijing Olympics are still three years away, but ace shooter Abhinav Bindra doesn't even have a minute to spare as he is busy preparing for the ultimate competition. At 22, Abhinav is already a veteran of two Olympics. He was the youngest Indian participant at Sydney in 2000.
Abhinav (left) with his Kazakh coach Stanislav Lapidus
Tiger rules, Golden Bear bows out
Vikramdeep Johal
St Andrews (Scotland),
July, 2040: The golfing world bids an emotional farewell to Tiger Woods, arguably the greatest player the sport has seen. The 64-year-old Woods, winner of a record 25 major titles, misses the cut at the 169th British Open to bring down the curtain on a glorious career. He receives a phenomenal ovation not only from his contemporaries but also from those budding players who were not even born when he won his first US Masters in 1997.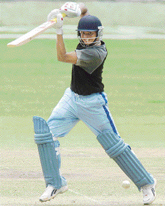 IN THE NEWS
Up and coming
Promising Uttar Pradesh batsman Suresh Raina has been justly rewarded by the selectors for his superb performances in the past two years. He was an integral part of the Indian team during the Under-19 World Cup last year.
Teenager Suresh Raina has made it to the Indian team by dint of his consistency and flair



The buck starts here

Rider Jesse Torkelson of Winfield, Alberta, is tossed by a bucking bull named Hiawatha at the Calgary Stampede in Canada. Torkelson didn't ride the bull for the mandatory eight seconds to qualify for a score.