PM's house that is not quite home
Parbina Rashid
Manmohan Singh's flat in Guwahati is neither owner's pride nor neighbour's envy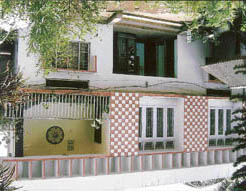 This house in Guwahati officially belongs to Prime Minister Manmohan Singh
THE small flat, a part of an imposing, triple-storey building, nestled on a small hillock in Sarumataria, near Dispur, the seat of power in Guwahati, fails to arrest anyone's attention. With its unkempt surroundings — dried up plants all around—it looks deserted.
Once one gets close enough to read the nameplate on the main door of the two-room set, the simple black and white plate reads "Dr Manmohan Singh", the Prime Minister of India. The house, number 3898 in ward 51, officially "belongs" to him.
Manmohan Singh may never have visited his house in Guwahati after becoming the Prime Minister but one has to go through heavy security cover before reaching the main house. Singh is the tenant of the late Hiteshwar Saikia, former Chief Minister, whose name evokes admiration in some and hatred in others. Though most of his family members have settled outside the state capital, his widow, Hemprabha Saikia, lives in the house.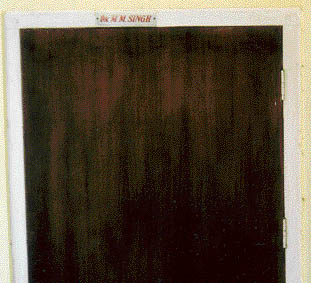 Fortunately, his eldest son, Debabrata Saikia, holidaying in Guwahati, offered to give a guided tour of the house. "It is a two-room set comprising one bedroom with an attached bath and a sitting room," he explained as I tried to look through the closed windows but failed to see much because of the darkness inside. "It does have a small cooking area that has never been utilised so far," he said.
Unable to bridle my curiosity, I could not help asking whether Singh has ever stayed in the house or not. That portion of the house, a recent addition to the main building, never seemed to have been lived in.
"When he contested the Rajya Sabha from Assam on the Congress ticket, he stayed here a couple of times. Since the house was not furnished at that time so he stayed with us", said Saikia. Officially, this is his "permanent official address" since 1991. Manmohan Singh has kept only a couple of books and a suitcase in this house.
As the Saikia family took a rent of only Rs 1,000 for the two-room set, which included electricity and water bills, a deal any tenant would envy.
After all, this special tenant was also assured of hospitality, including meals, whenever he visited his "permanent residence". The landlord also took upon himself the responsibility of forwarding all the mail that he received there to his New Delhi address. "I have to send this lot soon," Saikia said pointing at the pile of letters for the Prime Minister.
Saikia's immediate neighbour, N.C. Kakoti, a bank employee, was proud of narrating an incident when he helped the future Prime Minister.
"It was an early morning in 1991. Hiteshwar Saikia called me to his house immediately and introduced me to Dr Manmohan Singh, who was staying with him. There was no water in Saikia's house. So he requested me to supply water from my house. As I have a well in my house, I pumped water to Saikia's house and saved them from the sticky situation." Incidentally, he is also a signatory to the document that makes the Prime Minister a "resident" of Assam.
How does it feel to be the PM's neighbour? A little survey showed a majority of the residents of the area indifferent or disappointed.
"We know the Prime Minister has a residential address in our locality," said Jeoti Baruah with an air of indifference. The elation after he became Prime Minister, has disappeared because of his failure to visit his "own locality". They would not have minded if he had not visited Assam—not once but twice—since becoming the Prime Minister.
"The day he took the oath, Hemmaprabha Saikia had organised a party for the neighbours. She also installed a giant television so that we all could see the event together. We all waited for him when he visited Assam for the first time but he went straight to the circuit house and never came here," she added.
"Perhaps, it is the protocol and the security aspect, which did not allow him to visit his own house but we all wish he would do it at least once", said another of his neighbours. After all, they see Singh as a PM, not a neighbour.