Indian nurses are making a beeline for an internationally accepted nursing degree.

Prospects of high pay and enviable perks abroad seem a quantum leap for underpaid, overworked nurses in Punjab. Neelam Sharma on our desi Florence Nightingales who prefer to smile all the way to greenbacks and greener pastures instead of slogging it out here.

Fiftyfive-year-old Surjit Kaur has more than 30 years of experience as a nurse in the PGI, Chandigarh, and leading private hospitals. While many at her age would opt for a retired life, Surjit has more unconventional ideas. She enrolled with a private academy at Mohali to upgrade her diploma to an internationally accepted nursing degree.

"I want to upgrade my knowledge. I did a diploma in nursing but now degrees are more in demand," she says, explaining the decision to resume her studies.


Surjit's batchmate Randeep Kaur has already begun preparations for going abroad and is honing her English-speaking skills by attending classes at an institute in Mohali. From Amritsar, 50-year-old Randeep lives in the institute's hostel. The mother of three grown-up children—an engineer daughter and two graduate sons—she is the wife of a serving bank officer. "It was a collective family decision to join this course. When I get employment in New Zealand, I can take my entire family along," is her matter-of-fact reply. Randeep insists that along with the prospect of gaining a permanent residence in countries like Australia and New Zealand, which the course promises, the idea of earning a handsome salary attracted them to the course. "We got to know about the course through the word of mouth. All I know is that the nurses in foreign countries can earn anything between Rs 16-18 lakh annually. Why shouldn't I explore other avenues?" she insists, with a true-blue Punjabi mannerism. (names changed on request).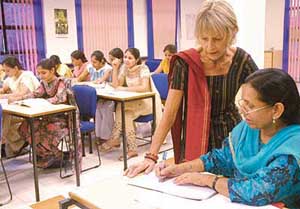 Training schools for nurses lay stress on spoken English courses. — Photos by Pradeep Tiwari

Florence Nightingale might have inspired nurses in the past but things have changed now. With the demand for qualified nurses in developed countries surging, nursing is viewed as a passport to quick placement abroad. Purists bemoan the new brain drain but one wonders if the raw deal given to most nurses, especially diploma holders, in India might have spurred them on to look for opportunities overseas.
It isn't merely the urge to better academic credentials but also the longing for greener pastures abroad that makes women like Surjit and Randeep sweat for a degree that equips them for a job abroad. More than longing for lucre at this age, the goal of these women is to enable their families to settle abroad.
Rupinder Kaur, a nurse in a private hospital at Ludhiana, draws Rs 2,000 per month. This meagre amount is not what she grumbles about. It is the lack of respect given to the profession, especially in North India, that has compelled her to shift base to New Zealand. After upgrading her diploma to a nursing degree acceptable there, she is all set to sit for the IELTS exam. Rupinder already has a provisional job offer for $48,000. "My family supports my decision and I plan to call them to New Zealand once I settle down. I could have never dreamt of being offered this kind of salary," she beams.
Like Rupinder, Barwinder Kaur, who has come all the way from Ganganagar in Rajasthan to the city to get the degree, adds, "Here we serve in hospitals for long hours but still can never get the kind of decent pay package we can get when we are abroad."
Mushrooming institutes
More than 100 nursing institutes have come up in Punjab over the past few years, with many providing a nursing diploma and a few offering a degree programme. According to Rajinder Kaur Dhadda, Nursing Superintendent, General Hospital, Sector 16, Chandigarh, her office is inundated by requests from nursing institutes in Punjab for allowing students to get practical training at the General Hospital. "Though, it is really good to see the increasing interest of people in nursing but standards have to be maintained. Many institutes do not have an attached hospital for practical training and feel that nurses can be made in the classrooms only," says Dhadda, who feels that aspirants must get their degrees and diplomas from institutes that have an attached hospital for practical and clinical training.
Chandigarh and the neighbouring townships are witnessing an emerging trend in nursing education—of giving an international degree recognised in countries outside India. Celebrating its success at finding jobs for its first batch of 25 nurses in New Zealand, the Canadian Institute of International Studies (CIIS), Mohali, is one such centre that promises employment abroad to serving diploma-holding, registered Indian nurses. The institute especially targets Australia and New Zealand, where it is believed that the shortage of nurses is likely to be more than 1.7 lakh by the next decade. The institute is collaborating with New Zealand's Universal College of Learning (UCOL) to give an acceptable degree. They say that the nurses can earn anything between Rs 16 and 18 lakh per annum in New Zealand and Australia. Aspiring nurses have to shell out more than Rs 2 lakh for a 10-month course, with two months of training without pay at a hospital in New Zealand.
Communication skills
Similar promises are made at the Chandigarh-based INSCOL Academy of Nursing, which has a tie-up with the University of Sunderland in the UK. Experienced nurses are offered a job placement in the UK and the USA. "In fact, we have already placed a batch of our students in the UK on an average salary of Rs 1.5 lakh a month," says the manager of the institute.
A part of the faculty of such institutes is from abroad and all these institutes focus on improving communication skills in English. As a faculty member of the CIIS puts it, "English has kept north Indians, especially Punjabi nurses, away from achieving the kind of success abroad achieved by nurses from the southern states. We have realised this and are trying to make our students perfect in the language."
The Principal of the PGI's National Institute of Nursing Education (NINE), the country's premier nursing institute, admits that the ambition to settle abroad is the leading goal of most of the students enrolled in the BSc nursing course. The craze can be gauged by the number of transcripts that the students from the institute want to be sent to foreign hospitals for registration as a nurse. The USA's mandatory exam for nurses, CGFNS (Commission of Graduate of Nursing School), is hardly an exacting test for reasonably good students of NINE.
Opportunities galore
"Although each student has to pay Rs 500 as fee for each transcript, most students of the previous batch have asked for transcripts from us so that they can apply for jobs to countries like the USA. I am thinking of asking the authorities for a hike in this fee going by the huge demand for transcripts," says Walia, who adds that the aspiring candidates have increased manifold in last two years after the USA opened two centres to conduct the CGFNS exam in India. "Earlier the student had to go either to Pakistan or to Thailand for the exam. Now with a centre each at New Delhi and Bangalore, things are easier," says the Principal.
Preet Kamal, a student at NINE, says: "Initially, when I had joined the course, I was not aware of the opportunities abroad. After studying at the institute and after taking a cue from my seniors, I do not mind taking up a good offer abroad. With a degree from the PGI, it is smooth sailing for us as compared to those from lesser-known nursing institutes.
"The trend of opting for jobs abroad is the not merely restricted to fresh passouts, but also to the serving nurses in the PGI. Last year, 30 to 40 nurses from the PGI went abroad on very good pay packages. Even this year, many nurses have gone to Ireland on a good salary and attractive perks," says a staff nurse at the PGI.
Meanwhile, the nursing community is enthused about the new avenues for nurses. "With the expanding healthcare sector, the starting salary degree-holding nurses can expect is Rs 8,000 to Rs 10,000. For the BSc nursing students who decide to do Masters in nursing, good opportunities are up for grabs in academics as they are absorbed in nursing institutes as faculty members," says a faculty member at NINE.
With the start of the BSc nursing degrees, diploma holders get a raw deal. They can upgrade their qualification by completing a two-year post basic nursing course, which upgrades their diploma to the level of a degree.
Caution needed
Almost all developed countries, including the USA, UK, Australia, New Zealand and Ireland, are facing an extreme shortage of nurses, thus creating a huge demand in countries like India. Experts say that while picking up nurses from Asia, the employers' first preference is nurses from Philippines, with India coming a close second
With the burgeoning demand and extreme respect attached to the profession in developed countries, salaries and perks as well as the working conditions for the nurses are extremely good there. Apart from fat pay packages, (nurses can make money according to the number of hours that they put in), the immense respect given to the profession in these countries too serves as motivation.
"I went to the USA recently, where my sister and many former colleagues from India have been working as registered nurses for the past several years. There is a remarkable difference between the US and India, not only in the money that a nurse makes there but also in the opportunities for growth available there. While in India, a nurse is never independent and has to work under a doctor even after years of experience, in the USA she can have her own clinic and OPD and can become an independent practitioner," says Sunita Sharma, a faculty member at NINE. According to her, after struggle for initial couple of years, Indian nurses, with a reputation of being sincere and hard-working, manage to create a niche for themselves. "Many believe that Indian nurses aboard are made to work harder or made to do the most tedious jobs. This is not true as the hospitals there want a person who is available on call 24 hours and are ready to pay a handsome amount. Since Indians are able to put in that kind of work, they are preferred and paid well," adds Sunita, who motivates nursing students to look for opportunities abroad.
However, those in the profession say that each aspirant must pay a lot of attention to the terms and conditions of a middleman, including the job consultants who are assisting their placement abroad. "Many a time, the nurses are required to pay 40 to 50 per cent of their salaries for two to three years under the contract signed between the nurse and the consultant. Sometimes, they are not paid at all initially. Some agents also keep aspirants in the waiting list after promising them jobs, which never come their way. Such things need to be thoroughly checked before the nurse signs a contract. There are genuine as well as unscrupulous agents in business. It is well worth spending time on checking all terms and conditions in India before touching the foreign soil," cautions Sunita.