What a Mann
Nirupama Dutt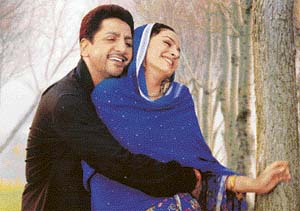 Gurdas Mann and Juhi Chawla in Des Hoya Pardes
Punjabi cinema, which had never quite come into its own after the Partition that meant a large-scale migration from the film city of Lahore to Bombay, is coming to its own. It is a happy moment indeed that National Awards have started coming the way of Punjabi films and the one who has pulled a hat-trick is none other than our Dil da Mamla guy Gurdas Mann. While his earlier films Shaheed-e-Mohabbat (1999) and Zindagi Khoobsoorat Hai (2002) had figured in the list of the National Awards, his latest Des Hoya Pardes has made a clean sweep by getting the Best Regional Film Award and the Special Jury award for Gurdas Mann as actor. The past half century and more, one has to really look for Punjabi films that may have figured in the the national awards but for a few like Nanak Naam Jahaz and Chann Pardesi.
Mann who has reigned over the Punjabi pop stage for a quarter century and still has the power to drive his fans crazy and get the police to swing the canes is his old humble self in acknowledging the latest honours. Asked to comment on the awards, he says, "The awards have come to the land and language that I represent. The honours are for Punjabiyat and for me the signal is to move on to the next project and try and do it well." Many make a hullabaloo about Punjab and Punjabiyat but more often than not it is as hollow as it comes. With Mann, of course, it is different for he has translated the spirit of Punjab in his art moving slowly and steadily from one aspect to another. And struggle indeed paved the way for him.
Flashback to the late 1970s and a young man with a song in his heart and soul sits with his head hung down in the Mandi House roundabout in Delhi because the organisers did not pay him what they had promised. Friends Kamal Tewari and Amrik Gill are more angered for they have faith in Mannís talent. He returns to Patiala and carries on writing, acting and singing. In December 1980, his song Dil da Mamla is aired on Jalandhar Doordarshan and a star is born. The star proves to be a trendsetter and the mood of Punjabi music changes with the times.
Many singers have been riding the wave of Punjabi pop but vanishing all too soon, whereas Giderhbaha-born Mann is as popular as he first was even at 48. This because Mann is not just a singer but a writer and actor who has worked his way up the hard way. With soul seeped in the rhythms of Punjab he now moves onto his next film called Vilayatan. Are hearts singing already?