Television
Sting in the tale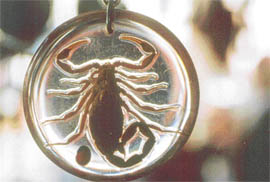 Scorpion: Killer or saviour?
Itís a sting operation with a difference. This sting has nothing to do with a tape-and-trap drama as itís all about trapping and killing.
This sting of the scorpion is feared the world over. Responsible for the death of hundreds of people worldwide every year, the scorpion has become one of the most feared killer in existence.
But scorpion biologist, Prof Philip Brownell, has a different viewpoint. His agenda is to prove to the world that the scorpion simply has a bad reputation. In fact, it saves more human lives than it snuffs out.
The National Geographic Channel and Professor Brownell, on a tour around the USA and into Mexico, show viewers why scorpions have become a problem to human beings and how that problem can be used to our advantage.
Back in the picture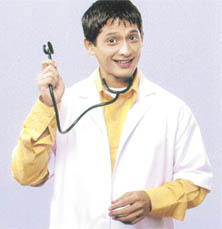 Vinod Singh in and as Ayushmaan
When he was shown the door from Ayushmaan after a spat with a studio hand, Vinod Singhís future looked bleak. Though the TV Artistes Association exonerated him, there were rumours that an informal ban had been imposed on him for intemperate behaviour.
The out-of-work star was defiant and said Bollywood producers were approaching him with tailor-made script. Now, it turns out there have been no Bollywood offers. But on the other hand, there is no ban imposed either on him doing serials.
The former Dr Ayushmaan is all set to do a cameo in Ye Meri Life Hai where he plays Kunal, a student who joins St Martinís College and becomes the cynosure of all eyes.
In fact, there are also rumours Vinod Singh may be asked to do a re-make of Aayushmaan. If that happens it would be great news for the former dashing young doctor who can once again eye the numero uno spot on the small screen.
Godly pursuits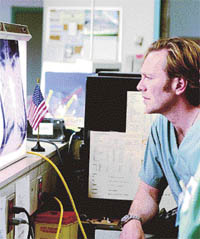 Regenesis: Science of the future
Bio-terrorism, designer babies, human clones. Suddenly, humanity seems to possess the ability to play God.
But is it okay for human beings to take on the Lordís role? Hallmarkís new 13-part one-hour series Regenesis sets out to explore just that.
This is not just another sci-fi offering. Regenesis is about NorBAC, an organisation that investigates the questionable advances in biotechnology.
And when the scientists are not busy identifying deadly viruses about to contaminate entire cities they are busy dealing with personal problems.
Though the concept sounds a tad like the X-Files series, it will be interesting to watch and speculate if cutting edge science will be humankindís salvation or the cause of demise. ó NF