PUNJAB

HARYANA

JAMMU & KASHMIR

HIMACHAL

REGIONAL BRIEFS

NATION

OPINIONS

MAILBAG

BUSINESS

SPORTS

WORLD

Wednesday, July 27, 2005, Chandigarh, India
Updated at 3:00 am (IST)
BREAKING NEWS (Updated at 4 pm)
Rupan Deol Bajaj case
SC upholds conviction of K.P.S. Gill
New Delhi, July 27
In a setback to IHF chief K. P. S. Gill, the Supreme Court today upheld his conviction for outraging the modesty of woman IAS officer Rupan Deol Bajaj in 1988.
Gurgaon rocks Parliament
Judicial probe ordered, says Patil
New Delhi, July 26
Union Home Minister Shivraj Patil today informed the Lok Sabha that a judicial probe has been ordered by the Haryana Government into the police action against protesting workers of a Japanese multinational company in Gurgaon.

In video (28k, 56k)



Lathis continue to rain on mobs


Editorial page: Police brutality


More stories in Nation, Punjab, Haryana, Ludhiana, Delhi, Chandigarh and Business
CAST YOUR VOTE
Is the government right in giving more autonomy to public sector undertakings?


FORUM

EDUCATION

JOBS & CAREERS

HEALTH & FITNESS

SCIENCE & TECHNOLOGY

SPORTS

SOCIETY

TRIBUNE CLASSIFIEDS

BRIDES WANTED

GROOMS WANTED

OTHERS

HOW TO PLACE ADVTS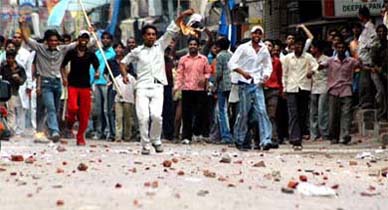 Protesters resort to stone-pelting in violent incidents in Gurgaon on Tuesday. — Tribune photo by Mukesh Aggarwal


In video (28k, 56k)


Rain paralyses life in Mumbai
Landslides, floods kill 54 in Raigad
Mahad (Maharashtra), July 26
At least 54 persons were killed today in the worst floods and landslides in Raigad district on the Konkan coast of Maharashtra in 16 years, a senior police official said.


In video
(28k, 56k)


A man walks past stranded vehicles in a waterlogged street in Mumbai on Tuesday.
— Reuters photo
In Jobs & Careers today

In Health & Fitness today
FORUM
Our feature, Forum, provides our readers with an opportunity to express their views on some of the vital issues facing the country. The new question being posed is:
What steps should be taken to curb the growth of population?
Readers are invited to send their letters, not more than 150 words, to:
The Editor-in-Chief, The Tribune, Sector 29-C, Chandigarh, with 'Forum' superscribed on the envelope. The answers can also be e-mailed to:
[email protected]
H.K. Dua, Editor-in-Chief

THE TRIBUNE MAGAZINES
On Sundays

On Saturdays

Power cuts in Haryana from today
Panchkula, July 26
Power cuts varying from six to 12 hours a day will be imposed on all industrial consumers in Haryana, while the urban consumers will face three to four hours of cuts a day.



Punjab page: Power crisis deepens

HC stays Bibi's disqualification
Chandigarh, July 26
Shiromani Gurdwara Parbandhak Committee chief Bibi Jagir Kaur today got a breather from the Punjab and Haryana High Court when her disqualification from her post ordered by the Sikh Gurdwara Judicial Commission was stayed till further orders.


Punjab page: SGJC proposes, High Court disposes


Ludhiana page: Khalsa Panchayat supports SGJC action
Thackeray hits out at Rane
Mumbai, July 26
Shiv Sena chief Bal Thackeray today broke his silence on Sunday's incidents of violence and alleged that activists of his party were brutally caned by the state police in order to let his expelled colleague Narayan Rane to address public meetings in Mumbai.
Trishul test-fired
Balasore, July 26
Indigenously built India's most sophisticated short- range surface-to-air missile Trishul was successfully test-fired from the Integrated Test Range at Chandipur-on-Sea, about 15 km from here today.


Discovery embarks on 12-day mission
Carrying photograph of Kalpana Chawla
Houston, July 26
NASA's space shuttle Discovery today embarked on a 12-day mission with seven astronauts onboard, marking a return to flight nearly two-and-a-half years after the Columbia disaster in which India-born Kalpana Chawla and six others were killed.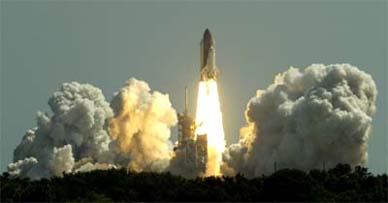 The space shuttle Discovery lifts off from pad 39B at the Kennedy Space Center in Cape Canaveral, Florida, on Tuesday. A crew of seven astronauts is aboard the craft bound for the International Space Station. — Reuters photo
QUOTE OF THE DAY
A cane-charge can only be resorted to if the people concerned are endangering the safety of the police. What is of importance in the matter is who was the aggressor first.
— Shivraj Patil



E - Revolution 2005:
A Two-day IT conclave

Assembly Elections - 2005

Turbans

Chandigarh is 50

EARLIER FEATURES
DSP among hundreds hurt
July 26, 2005
Troops kill four teenagers
July 25, 2005
Terror, now in Egypt
July 24, 2005
Suspected bomber shot
July 23, 2005
Terror strikes London again
July 22, 2005
PM allays fear of Pakistan, China
July 21, 2005
US recognises India as nuclear state
July 20, 2005
Indo-US ties in for transformation
July 19, 2005
Advani to stay on both posts
July 18, 2005
India not on sale: PM
July 17, 2005