New Products and Discoveries
Microbes and cures
Scientists have deciphered the DNA of the parasites responsible for three deadly diseases: African sleeping sickness, Chagas' disease, and leishmaniasis. This information could open new routes to preventing and treating these conditions, which collectively kill more than one million people worldwide each year.
The diseases are caused by related protozoa in a group known as trypanosomatids-single-celled organisms that are transmitted back and forth between at least two hosts, often a blood-eating insect and a person. African sleeping sickness, caused by Trypanosoma brucei, gradually brings on devastating neurological symptoms that affect the sleep cycle. Chagas' disease, caused by Trypanosoma cruzi, critically damages the heart, stomach, and brain. Leishmaniasis, caused by various species of Leishmania protozoa, can lethally enlarge the spleen and liver.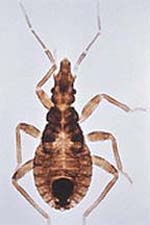 Meat-eating caterpillar
A newly named species of Hawaiian caterpillar sneaks up on a resting snail and quickly spins silk strands around it, lashing it to the spot. The caterpillar then reaches into the snail shell's opening and has lunch.
These larvae of a small moth, newly named Hyposmocoma molluscivora, are the first mollusk-eating caterpillars that scientists have officially described, says Daniel Rubinoff of the University of Hawaii at Manoa. A few other snail eaters have been spotted in Hawaii but not yet studied.
Larger trout
Bigger rainbow trout for consumers is the goal of Agricultural Research Service (ARS) scientists who are working with industry on genetic methods to more efficiently produce fish that grow faster. William K. Hershberger, research leader at the ARS National Center for Cool and Cold Water Aquaculture in Kearneysville, W.Va., and his colleagues have developed a more effective way to produce rainbow trout that have three sets of chromosomes instead of the usual two sets.
Trout with three chromosome sets grew faster than fish with two sets, so the industry tries to breed fish with three sets for meat production. Rainbow trout with three sets of chromosomes grow faster because they are unable to reproduce. The energy from the food they eat is shifted from reproduction to growth.
Mirror images
When a capuchin monkey looks at its own image in a mirror, something strange happens. The diminutive creature reacts not as if it sees a stranger, as many researchers had assumed. Instead, the reflection gets treated as a special phenomenon, generally eliciting curiosity and friendly overtures from females and a mix of distress and fear from males, a new study finds.
Capuchins' reactions signal an intermediate self-awareness that lies somewhere between seeing the mirror image as another individual and recognizing the reflected figure as self, according to a team led by psychologist Frans B.M. de Waal of Emory University in Atlanta.