Sculpted for a lasting impact
S. L. Parasher set up the School of Art and Crafts in Simla in 1951. It shifted to Chandigarh in 1962 and is now known as the Government College of Art. Archana Shastri reviews two new books on the painter, sculptor and his life
S. L. Parasher 1904-1990, Time. Space. Light. Consciousness
SarNir Foundation, New Delhi. Pages 135. Rs1,000.
Kalaa: Field Notes from the Interior
by S.L. Parasher Ed. Sandy Sterner et al SarNir Foundation. Pages 132. Rs1,500.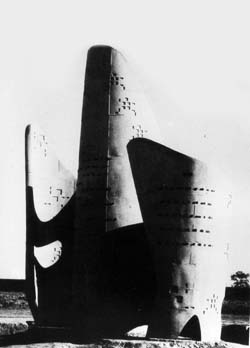 The landscape sculpture, "Un-divided Punjab," in Leisure Valley, Sector 10, Chandigarh, which was designed by S. L. Parasher in 1967. The 16-foot sculpture was conceived as a monument on the reorganisation of Punjab
THE two volumes on and by S.L. Parasher have been released by SarNir Foundation to commemorate the 100th birth anniversary of the renowned painter and Sculptor. Volume I—S. L. Parasher 1904-1990, Time. Space. Light. Consciousness—catalogues his works from 1947 onwards and is a compilation of reflections and responses on the artist's work from critics, colleagues, friends and family. Volume II—Kalaa: Field Notes from the Interior, edited by Sandy Sterner, Aloka Parasher-Sen and Prajna Paramita Parasher—are selections from Parasher's book-in-progress for posthumous publication.
Acclaimed in post-independent India, as one of India's most significant sculptors and painters, the first volume is a modest reminder of Parasher's contributions towards setting up the School of Art and Crafts in Simla, in 1951, after India was partitioned and The Mayo School of Art was left in Lahore. In 1962, the school shifted to Chandigarh with its continued commitment to arts and design. In 1978, it affiliated to the university for a degree course and is presently Chandigarh's prestigious Government College of Art.
Brought together, as in a mosaic, are reflections and recollections by colleagues, students, critics and family that unfold the complex travails of his personal and professional achievements as an artist, an educator and a person.
It documents and throws light on the personal journey of the artist as one constantly negotiating social, cultural, political and aesthetic transitions inevitably shaped by the national destiny. Personal encounters, shared intimacies and concerns with colleagues and family members along with meticulous deliberations, research and ideations are tinged with anguish in wanting to connect both with tradition and modernity, the national and the international.
Their personal travails, however, assume a national and wider dimension, the ideological dimensions of which has been succinctly addressed and put in historical perspective in Geeta Kapur's Chapter on National/Modern: Preliminaries.
While traditional forms and literary resources spurred his imagination, it is in Parasher's response to materials that sheer spontaneity and unfettered involvement finds fullest liberation. During the sixties when Chandigarh was being developed as part of the Nehruvian vision of nation-building in the post- Independence period, and as a founder Principal of the College of Arts interaction with architects, writers and historians fuelled his intellectual world. His own creativity was triggered to find suitable responses to the changed aesthetics of a post-Independent, modern city.
Le Corbusier selected Parasher's design for a steel sculpture mural in Chandigarh from an all-India contest. The Vidyavalanj (States of Knowledge) selected for the entrance of Government College for Men building sets into motion the overwhelming large expanse of the fa`E7ade of Corbusier's building; the dynamism of triangular forms and the shadows cast simultaneously compliment and intensify the architectural fa`E7ade of the college. Similarly, Parasher's 'Landscape sculpture-undivided Punjab' of 1967 in Leisure Valley, extols the language of pure form and texture imprinted with square shapes, the text of a poem by Puran Singh and Punjabi folk songs.
The forms emerge from amidst the circular pool as if kneaded out and raised to a circular sway out of the soil. Similarly, restlessness generating energy and movement; pulsating forms take on the cosmic rise and flow as in the celebrated mural done for Nirman Bhavan in Delhi. The physicality of gesture and space combined with delineation of colour and linear designs with a graphic impact is equally impressive as in the mural 'Ganit Jantra'—in plaster paint for the mathematics faculty of Panjab University.
The first volume on Parasher, traces his evolution and his departure from the pre-Partition phase of his works. His positioning as a bridge between the Indian tradition in which "the art experience, the process of visualisation and the work of art were a simultaneous and single action, automatic and autonomous" and the contemporary art of the modern world, which was preoccupied with the "formalistic problems of painting and its language" sums up his entire quest and achievements.
Kalaa: Field Notes from the Interior focuses on Prasher's extensive research and moorings in literature. Though ideations stemming from traditional knowledge and research bear direct projection in his images, it is only in his nascent explorations with materials, where the sensory encounter overwhelms the intellectual, that his genius is discerned.
While the two volumes impress with the historical relevance of S. L. Parasher, crisper editing without inane tributes by family members could have greatly enhanced the stature of the volumes.