Handy tool kit for parents
by Gitanjali Sharma
Happy Children through Positive Parenting
by Elizabeth Hartley-Brewer. Vermilion. Pages 228. £ 4.75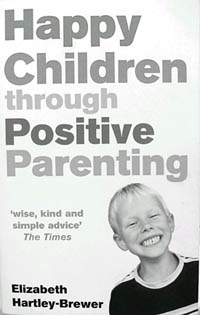 Are you often at the end of your tether while handling your child? Are you plagued by doubt and guilt that you are not a good enough parent? Do you fear that you have lost all parental control over your child? Do you think that your child is undisciplined and is always answering you back?
If you have said "Yes" to any of these questions, try out the advice offered by Elizabeth Hartley-Brewer; and if you have had to gravely nod to all four queries, go ahead and buy the book. But, like all self-help books, how much you gain from what your eyes devour would depend on: what you have imbibed and what finally is put to test. Positive parenting, the author asserts, requires a "new contract of commitment from everyone who cares about the quality of life for our children."
The book offers seemingly simple and direct advice for developing a lovable relationship with your child. The counsel, backed by suitable examples and ways-to-do-it lists, factors in the expected problems. This revised edition has dealt with certain needs that were not acknowledged 10 years ago. For instance, today, there's strong emphasis on nurturing self-esteem in growing children as opposed to adults; divorce and separation are affecting an increasing number of parents and children; and, more mothers are returning to work when children are younger. The author has competently explained how to cope with these changes.
"It is OK to do it your way," is the underlying message for parents in the book. The parents are persuaded to trust themselves, to work on their self-esteem, to pay attention to who they are and "to do it their way".


Some plain-speaking
The 'quality time' given to the child is too contrived and action-packed. The child may not be ready to talk when you are.

Nagging and criticism sow doubt and resentment

Why should kids not be allowed to shout at you if you do it to them?

Why should they not watch TV as their main leisure time activity if that is how you spend much of your free time?

The purpose of discipline is to encourage self-discipline.
Step by step, the nine chapters lead towards helping you build a secure foundation with your child and provide you with "the expertise" for positive and committed parenting. For those who feel that much water has already flowed under the bridge, there's a 'repair kit' for mending and rebuilding trust in one another. The book caters to more or less all that affects parenting though readers may have benefited with some tips on problems to be anticipated at different age groups.
The foundation of parenting, says the author, must rest on trust and not power play. "What you get is what you expect." Before expecting a child to give his best shot, he must be made to feel secure and good about himself.
Finally, the book says, "you are the expert on you and your child". Like all self-help books, this too equips you with just a set of tools. As a parent, you'll have to adhere to the guidelines and remind yourself again and again that you are the adult in this life's play. And, you don't get belittled if you say sorry or seek a compromise.