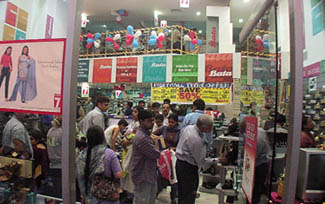 It's official. According to a global survey, middle class Indians with disposable incomes are spending on food, clothes and fast-moving consumer goods as if there is no tomorrow. Komal Vijay Singh looks at the spending fever that has gripped the Great Indian Middle Class
THAT the middle class Indian is rocking was never debatable. But now it has been proved by a global consumer confidence survey conducted online by the world's leading marketing information company, AC Nielsen.
Lotus of the marshlands
Ervell E. Menezes
DAMAN or Damao is a quaint little port on the West Coast of India. It has been the coveted prize for which princes and potentates, local satraps and alien powers waged wars. Occupied by the Portuguese for four and a half centuries, traces of the European influence are still there as in Goa where the laid-back, susegado (contentment, not laziness) is vaguely palpable.
On the wings of faith
Amar Chandel
WHEN you have over a dozen Amarnath yatra veteran friends to fill you in on the journey details, you know very well what you are getting into. But even their cautionary tales did not prepare us fully for the thrill and hardship of the pilgrimage when we actually embarked on it.
Gyrating to fame
There was a time cabaret numbers were done by specific dancers and not heroines. Today, that line has blurred, writes Shoma A. Chatterji
HELEN and Bindu are history. Now, it is the age of Isha Koppikar and Malaika Arora. They make Helen's hot numbers seem like the dance steps you were taught in nursery school. Gone are the days when dance in mainstream Indian films was the kind you watched Vyjayantimala perform in Jewel Thief or much later, Hema Malini's sensual number in Sholay.
Ode to a titan
M . L. Dhawan pays tribute to Mohammed Rafi. Today is the legendary singer's 25th death anniversary
AT a commemoration meet to felicitate King George VI, the legendary K. L. Saigal was to sing. The microphone failed after a while and Saigal's dulcet voice could not reach the audience over the huge grounds.
Award for Ash
LEADING Bollywood actress Aishwarya Rai will be honoured by the British Government with an outstanding honour, The Next Step World Diversity Champion Award.
Munshi and the movies
Nirupama Dutt
THE buzz in movie circles is that Vidhu Vinod Chopra after caressing the hearts of moviegoers ever so tenderly with Parineeta, a love story penned by Bangla writer Sarat Chandra, in 1914 is now looking for a classic from Hindi.