On the wings of faith
Amar Chandel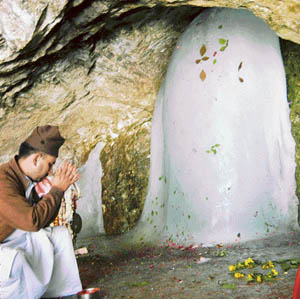 Puja at the sanctum sanctorum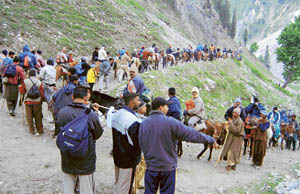 An endless line of the devout — Photos by Amin War
WHEN you have over a dozen Amarnath yatra veteran friends to fill you in on the journey details, you know very well what you are getting into. But even their cautionary tales did not prepare us fully for the thrill and hardship of the pilgrimage when we actually embarked on it.
Of the two routes, the one via Pahalgam is easier, but requires an overnight halt on the way. So we chose the tougher Baltal (Kargil) route. And was it tough. The 14-km steep climb passes through breathtaking hills and valleys but you are always just a step away from certain death.
Vertical heights are enough to give one vertigo. Yet, thousands of the devout hang on precariously to the mud track, thanks to abundant faith. Not only the able-bodied but also the old and infirm trudge their way, oblivious of pain. Some go up on horseback and on palanquins. Their silhouettes in the pre-dawn are an eerie sight.
Of late, helicopter service to the cave has also started, but with the round trip from Baltal costing Rs 10,500 and from Srinagar Rs 22,000, this facility is a luxury for most.
As one moves up, the air becomes rarefied and breathing is difficult. It is biting cold, with glaciers all around. Things worsen further if it is cloudy. And yet, very few brave the elements with occasional shouts of "Bum Bum Bhole".
Such is the rush this year that one actually encounters traffic jams, not only on the Jammu-Srinagar highway but also on the way to the cave. Ponies can be seen standing single file, for miles on end. All this happens despite the fact that one has to register one's name before commencing the journey right at one's hometown and is given a particular day on which he or she can have the darshan.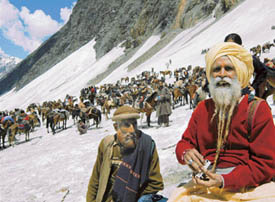 Ponywallahs wait near the cave for the pilgrims.
Pilgrims make light of the terrorist threat too. Security is tight to the extent of being irksome, but perhaps this is unavoidable. Every pilgrim is frisked and every piece of luggage X-rayed. Security men in bulletproof jackets line the road every 50 metres or so right from Jammu, checking every bush and culvert round the clock. The nearby hills have also been secured.
Camps for pilgrims are highly fortified. Soldiers in bulletproof jackets are fully armed and carry minesweepers. They brave the elements with a gentle wave for every pilgrim. If the pilgrimage is taking place at all, it is because of the safety net spread by these magnificent men.
One also cannot forget the role of the ponywallahs who not only undertake the arduous journey daily on foot, holding the reins of their ponies, but also do it at an incredibly rapid pace.
A tougher job is of those who carry people on palanquins. Four hardy men carry pilgrims on a makeshift palanquin resting on their shoulders. Actually, it is a chair tied to two long poles. Watching them go up and down the bridle paths too difficult for even walking makes one forget one's own pain.
Signboards on the way advise one to carry eatables and water but one does not have to really worry on that count, because there are numerous bhandaras whose organisers actually beg you to eat or drink something. It is not just roti, chawal, dal fare. The items served remind you of a wedding reception. Noodles, kesar milk, dosas, paneer dishes`85. They expect you to eat your fill. Organisers from places like Ludhiana, Jalandhar and Lucknow compete with each other in wooing the pilgrims to partake of free food. But at 4000 metres high, one should eat very very frugally.
The item one must carry in abundance is sunscreen cream. The merciless sun can burn the exposed parts in minutes. In fact, it is very easy to recognise those who have already done the yatra by their baked skin and blackened noses.
A raincoat, woollen clothing, an umbrella, walking stick, torch and personal medical kit are also advised.
The shrine board has made good arrangements at various camps but at the cave you are at the mercy of private groups which give tents on hire. These are erected on snow. The stay there can be messy, particularly because public conveniences are as good as non-existent. Rather than stay at such an extreme height, it is advisable to come back to the base camp as altitude sickness can set in very easily.
So, what was the scariest part of the journey? No, it did not take place during the climb but on the road from Srinagar to Baltal. Vehicles are stopped at places like Manigam and then allowed to proceed in convoys with tight security. Army vehicles escort the convoys. Even when it was known that one cannot overtake Army vehicles, there was a mad attempt by some drivers — mainly from Punjab and Delhi — to overtake. My knuckles turned white when two such maniacs squeezed our car out of the way. Others too had similar nightmarish experiences.
Thanks to such wannabe Formula-1 racers, thousands of us suffered a six-hour traffic jam while returning from Srinagar to Jammu.
Ironically, while Army men were patrolling the road intently, some policemen were engaged in their eternal vocation: extracting money from drivers for such "serious" traffic offences as not carrying a passenger complaint book. Our driver has vowed not to return.