Ode to a titan
M . L. Dhawan pays tribute to Mohammed Rafi. Today is the legendary singerís 25th death anniversary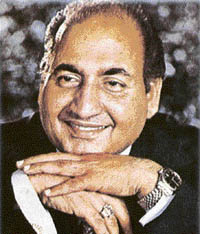 AT a commemoration meet to felicitate King George VI, the legendary K. L. Saigal was to sing. The microphone failed after a while and Saigalís dulcet voice could not reach the audience over the huge grounds. As the audience grew restive, a young boy among the crowd jumped up to the dais and started singing. His robust voice was carried to the last corner of the ground and the crowds cheered. This boy was Mohammed Rafi and his performance was his first step towards immortality.
Rafi made his debut in the film industry with a Punjabi film, Gul Baloch, but the song Watan ki rah mein watan ke naujawan shaheed ho.. (with Khan Mastana) made him very popular. A non-film number, Suno suno aye duniyan walo Bapu ki ye amar kahani, recorded by Rafi in the memory of Mahatma Gandhi had Pandit Nehru in tears. At Indiaís first Republic Day celebrations, Rafi was allotted three minutes at the Red Fort to sing Lehrao tiranga lehrao, Rafi cast a spell and was allowed to stay on the stage for more than 30 minutes. Such was the impact of Rafiís vocal virtuosity that the audience watched Rafi and not their watches.
When Rafi arrived on the music scene, singers like Saigal, C.H. Atma, Surrendra, Khan Mastana, S.D. Batish, G.M. Durani ruled the roost. All of them could sing mellow songs in low octave. In such a scenario, Rafi, who had an awesome range, proved to be a godsend for the composers of the day. Now with Rafi around them there was no limitation placed on the range of their compositions.
His voice could infuse immeasurable yearning into songs like Yeh zindagi ke mele, Is dil ke tukde hazar huye, Yahan badla wafa ka bewafai ke siwa kya hai, Tere koochey mein armanon ki duniya ley key aaya hoon etc.
These numbers revealed Rafiís phenomenal crooning capabilities. O duniyan ke rakhwale, Man tadpat Hari Darshan ko aaj, Tu Ganga ki mauj, Insaan bano from the film Baiju Bawra, under the baton of legendary maestro Naushad, catapulted Rafi to dizzy heights.
Rafi was not only good at singing high notes, he created magic when he sang softly. The world paused to listen to his Yeh zulf agar khul ke bikhar jaye to achchha and Chhoo lene do nazuk honthon ko. By far the best singer in films, Rafiís repertoire was unparalleled ó from folk to classical to Western.
Rafi tended his career with the passion of a workaholic. A perfectionist to the core, he rehearsed his songs till he achieved the desired level of perfection. With Rafiís vocals, Shammi Kapoor brought the famous Yahoo exuberance in love songs. Rafiís impassioned evocation of romance in Dil ki awaaz bhi sun made Joy Mukerjee a lover boy. Rafiís robustly rustic/rural Main jatt yamla pagla deewana made Dharmendra a Ďhe maní hero. Rafiís ability to do justice to his songs to befit/depict every mood speaks volumes about how divergent and all encompassing a singer he was.
Rafi resorted to vocal pyrotechniques to ensure that no artist he lent his voice to sounded like the other. ĎJanií Raj Kumar is instantly identifiable with Yeh duniya yeh mehfil mere kaam ki nahin. Mention Khilona jaan kar tum to... and thespian Sanjeev Kumar comes to mind. Mast bahaaron ka main aashiq made Jeetendra a jumping Jack.
Rafi and Pradeep Kumar seemed to be made for each other when we listen to Ab kiya misaal doon main tumhare shabab ki...í When Rafi lent his voice to Man mora banwara and Ajab hai dastaan teri ae zindagi, picturised on Kishore Kumar, he sang the way Kishore did. Rafi rendered the super comic Hum kaale hain to kya hua dilwale hain for Mehmood and Rafi was synergetic with Johny Walker in Sar jo tera chakraye.í
Rafi was an inspired soul and needed no external inspirations, his inner self being rich enough to stimulate his creative art. In his songs, he created a fantasy world and brought cheers and smiles to those who were fed up with life.
The lucidity in his voice remained intact till his end. On July 31, 1980, a massive heart attack silenced this peerless singer. He belonged to that class of artistes who defy death. He is alive even today through his haunting melodies. It is not easy to forget Rafi. He had cautioned music lovers: Tum mujhey yoon bhulla na paoge/Jab kabhi bhee suno ge geet mere, sang sang tum bhee gun gunaoge.