Munshi and the movies
Nirupama Dutt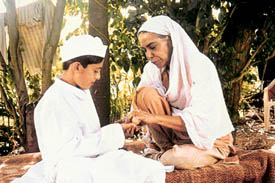 Surekha Sikri in Tehreer... Munshi Premchand Ki
THE buzz in movie circles is that Vidhu Vinod Chopra after caressing the hearts of moviegoers ever so tenderly with Parineeta, a love story penned by Bangla writer Sarat Chandra, in 1914 is now looking for a classic from Hindi. And his heart seems to be set on doing Munshi Prem Chand's classical pastoral novel, Godan, all over again. Well, if Bimal Roy could retell Sarat Chandra's Devdas after Barua and Sanjay Leela Bhansali could re-re-tell it, then why not a retake on Godan.
In fact, Premchand's writings have inspired many memorable films, including two unforgettable ones by Satyajit Ray, Shatranj ke Khiladi (1977) and Sadgati (1981).
The first film inspired by a Premchand story was Mazdoor. It was made way back in 1945. The second film was Heera Moti (1959), based on a short story called Do Bailon ki Kahani. It had the famous pair of Bimal Roy's pastoral classic Do Bigha Zameen(1953) in the lead, Balraj Sahni and Nirupa Roy. However, Chopra was no Roy and film is all but forgotten but for a pleasant duet so beautifully depicting the Ganga-Jamuni culture, Kauni rang mungva/ Kauni rang motia/ Kauni rang ri nanadi tore birana, that can sometimes be heard in a programme of Bhoole Bisre Geet.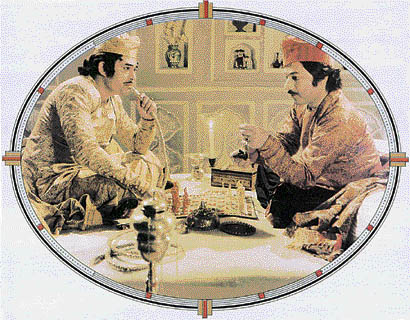 Sanjeev Kumar and Saeed Jaffrey in Shatranj ke Khiladi
Trilok Jeltley directed Godan (1963) is still etched in the mind for its realistic narration on celluloid of the struggle of the Indian farmer with Raj Kumar and Kamini Kaushal in the lead. The musical score was by the sitar maestro Ravi Shankar and one of the best Purvia songs of Hindi cinema was from this film, Pipra ke patva sarikhe dole manva, Ke hiyara me uthat hilor.
Godan, the last complete novel by Premchand, is considered one of the greats and has been translated into many languages. Krishna Chopra along with Hrishikesh Mukherjee made yet another film on a Premchand story. This was Gaban (1966), the story of a clerk who embezzles funds to buy a coveted necklace for his wife. Sunil Dutt played the clerk and a deglamourised Sadhana danced to the music of Shankar Jaikishen singing, Maine dekha thha sapne mein ik Chandrahar. Mere balam ne pehana diya.
With the Chandrahaar saga not clicking too well with the masses, it seemed the days of social realism a la Premchand were over. But in 1977, Satyajit Ray made his first Hindi film on a story by Premchand set in the large backdrop of colonial India and the annexation of Oudh. In spite of criticism that by changing the end of the story in which the two nawabs kill each other for honour's sake Ray had done injustice to the spirit of the conquered, Shatranj ke Khiladi is considered one of Ray's most important films. Ray's telefilm, Sadgati (1981), with Om Puri and Smita Patil in the lead, was soul-stirring as it raised the question of caste that is as alive in society today as it was when Premchand wrote the film.
Last year, Gulzar turned his attention on the Munshi with a 26-episode serial for Doordarshan called Tehreer as part of the 125 th centenary celebrations. For Gulzar it was a project after his heart as he wished to leave his stamp on the works of a genius as he had done with a difference by a serial on none other than the great Urdu poet, Mirza Ghalib. But the response of the audiences was not all that admirable.
If Bhansali can send Devdas to Oxford or make Paro and Chandramukhi shake a leg and much else, or if Vinod Chopra can reset the 1914 love stories in the Calcutta can of the Sixties, Godan's Hori, the protagonist too, is bound to undergo change. Change is after all the spice of life and more so the movies. Putting Munshi's heroes in movies of these times may well mean changing the landscape of Godan from Uttar Pradesh to the BT cotton fields around Bathinda.
The battle between lovers of literature and makers of movies will thus carry on. Story tellers in celluloid will continue to look the way of classics.