Television
Shekhar's shakin' on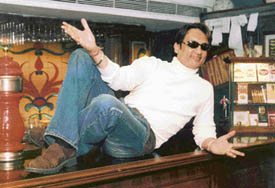 Shekhar Suman in the Great Indian Comedy Show
HE sure is channel surfing. From Sony to Zee and then on to Star News, Shekhar Suman has now landed on Star One. After giving a gloss to the Great Indian Laughter Challenge on the Friday prime time slot, the king of kitsch is now joining the Great Indian Comedy Show.
The show has been a hit from the word go. From Monday to Thursday, stars like Ranvir Shorey, Vinay Pathak, Gaurav Gera and Suresh Menon bring to viewers their daily dose of whacked-out humour with their madcap antics and rib-tickling spoofs.
With some of the funniest men and women on television doling out unadulterated comic entertainment it would be interesting to watch whether Shekhar can add more quality to the show with his inimitable brand of comedy.
About his two Star One Shows—- Great Indian Laughter Challenge and Great Indian Comedy Show all he says is, "I have two great shows on a great channel like Star One!"
No masala in this tea
What with CNBC, TV Today and a host of other channels all set to bring you more news the slot may look overbought and overcrowded. But Zee TV doesn't think so even as it starts airing Chai Time to give you the day's highlights in an "entertaining way".
Chai Time covers various issues related to politics, sports, business, crime, cinema, astrology and lifestyle.
For some strange reason the channel has chosen two serial stars, Abhinav Chaturvedi and Kulraj Randhawa, as hosts instead of a veteran newsreader. Obviously, they can't distinguish between news and soaps and end up dishing out a bland fare. What Chai Time needs is plenty of masala to turn it into a heady brew.
Cameos are good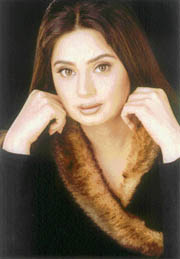 Shalini: From Tollygunge to TV
Can cameos in a few Bengali films be your passport to a thriving career on the small screen? If you happen to be Kolkata-born Punjabi girl Shalini Kapoor, the answer is a resounding yes.
Shalini, who was trapped in small roles in films, has struck gold on TV. She's doing the pivotal role of Sakshi in Kkusum and is the 'other woman' Mohini in Zee's newly launched afternoon daily Paalkhi. She has a host of new ready-to-air serials.
"In Paalkhi, I play a very interesting role. It transforms from a positive to a negative character over a period of time. I really like it because till now I was getting only goody-goody stuff. I was pining for something meaty like this," says Shalini who is finally being noticed in these two soaps.
This former Miss Kolkata now dreams of making it big in Hindi films. Says she, "The best route to Bollywood is via the small screen." — NF