M A I N N E W S
Mumbai reels under another deluge
Tribune News Service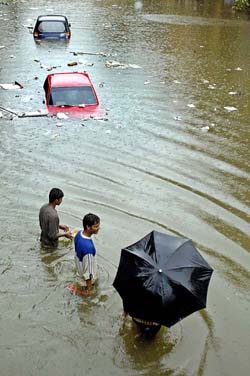 People wade through a waterlogged street in Mumbai on Monday. — Reuters
Mumbai, August 1
Normal life was affected today as heavy rain disrupted rail and road traffic in different parts of the city and the suburbs.
According to the state police and fire brigade, heavy flooding was reported in north and central Mumbai with low-lying areas reporting three feet of floods.
Though the water levels did not rise as much as they did last Tuesday, they were enough to throw traffic out of gear.
According to Western and Central Railway authorities, train services were disrupted in the morning following heavy rain overnight. Officials said trains ran late by 15-20 minutes throughout the day and several services had to be cancelled.
Attendance in offices was thin after the Mumbai police warned people against venturing out.
Office-goers who reached the offices in the morning too chose to return home early after the authorities warned against bringing vehicles onto the streets.
The authorities had already closed schools, colleges and other educational institutions in Mumbai, Thane and Raigad after Sunday's downpour.
Traffic along the eastern and western express highways too was disrupted following waterlogging at different spots.
Flights in and out of Mumbai too were affected as visibility narrowed down to 900 metres.
All major airlines, including Indian Airlines and Jet Airways, cancelled many flights and rescheduled the rest on account of poor visibility.
Elsewhere in Maharashtra, villages on downstream of several dams were evacuated after rains filled water storage systems.
A red alert was sounded in Pandharpur in western Maharashtra and 10,000 persons were evacuated in Sangli after the Koyna dam overflowed.
Similarly, 5,000 families in 35 villages along the Krishna in Sangli district too were evacuated.
The met department has warned of heavy to very heavy rainfall in Mumbai, Konkan and Goa. Fishermen too have been warned not to venture into the sea.
Fire officials said rainwater had entered ground floor flats in a number of areas like Andheri, Santa Cruz, Bandra, Marol, Saki Naka, Wadala, Kurla, Chuna Bhatti and Chembur.
These areas were the worst affected in last Tuesday's rains.
The navy pressed in dinghies to assist people in waterlogged areas. The authorities had come in for criticism for not bringing in boats when water levels rose more than 15 feet in some places last Tuesday.
Today, Mumbai Police Commissioner A.N. Roy visited flood-hit areas of Kurla and Kalina on boats provided by the navy.
With the Mithi nearby rising, water levels rose eight to 10 feet. These boats were also used to ferry relief material to the stranded people.
The navy pressed in 11 rescue teams and were assembled at Poisar in North Mumbai's Borivali suburb and at Air-India colony near the airport.