MUSIC ZONE
Backstreet Boys ó Never Gone
(Song BMG)
Saurabh & Gaurav
It has been nearly five years since The Backstreet Boys released a
full-length album of all new material, but as the title suggests, they donít want you to call their fourth LP a comeback, for they say theyíve been here for years. Kevin Richardson, Brian Littrell, Howie Dorough, A J McLean and Nick Carter retain their classic trademark harmonies in this album but at the same time venture forth with a more contemporary sound. Never Gone kicks off with Incomplete, a break-up song on which Nick begs, "I pray for this heart to be unbroken / but without you all Iím going to be is / incomplete." The sombre Safest Place to Hide belies the break-up theme of the album, and instead relies on thoughts of a positive relationship. Weird World is the closest the Boys get to good old-fashioned fun (I Want It That Way). If you were a hardcore Backstreet Boys fan a few years back, thereís no need to worry that youíve outgrown this group. Chances are youíll find the sound on this album has grown up with you. It is like they had never gone.
Best track: Never Gone; Worst track: Crawling Back To You; Rating: ***
Dave Matthews Band ó Stand Up (RCA)
| | |
| --- | --- |
| The newest offering from the Dave Matthews Band, is interesting and creative. The interaction of complex, infectious rhythm tracks with politically confrontational lyrics makes for an exceptionally well-produced album. Dreamgirl, the albumís opening cut, serves as stylistic bridge to Some Devil, mixing in elements of Rufus Wainwright and long-time muse Emmylou Harris. While songs like leg-shaking Stand Up (For It) and up-tempo Steady As We Go will snugly tuck themselves between such crowd pleasers as Ants Marching and Stay (Wasting Time), this time the boys show they have plenty more to offer. The South African-born vocalist/guitarist, of course, is the star of the show, and he shines brightly on a variety of pleasurable material. He nearly whispers his way through the intimate gem Out of My Hands and fires up for the hot foot-stomper Louisiana Bayou. And on the albumís most overtly political track, Everybody Wake Up (Our Finest Hour Arrives), Mathews sings serious lines like "See the man with the bomb in his hands," but the groove is contagious. | |
Best track: Stay; Worst track: Hunger For The Great Light; Rating: **
Foo Fighters ó In Your Honor (RCA)
| | |
| --- | --- |
| The most ambitious album yet, In Your Honor is the fifth release from Foo Fighters. This double-disc set is split between rock and an acoustic disc. The first disc serves as the bandís best opportunity to date to stitch together the heavy metal record we all knew they had in them. Disc two is the true moment of departure for the Foos, as they settle down for some acoustic campfire songs. The title track is an anthemic blessing, all thick guitars and rolling drums, as Grohl poses the question, "Can you hear me?" The Last Song is the discís emotional centrepiece. No Way Back should join past hits This Is a Call and Breakout as up-tempo radio and concert favourites. On the completely opposite end of the spectrum, the acoustic tracks lead you down a path to the deepest and most beautiful places in your mind. Grohl collaborates with Norah Jones on Virginia Moon for some jazzy swing. The jewel of this 43-minute slow dance is Miracle, which features piano by former Led Zeppelin bassist John Paul Jones and violin by Petra Haden. Five albums old now, Foo Fighters are now one of rockís titanic acts ó and this splendid outing wonít let them sink. | |
Best track: Best of You; Worst track: Another Round; Rating: ****
Album of the month
Oasis ó Donít Believe The Truth (Sony BMG)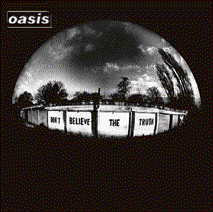 This band has walked the line of credibility more finely than any other. Donít Believe The Truth is a surprisingly good return to form for the Manchester legends. The album starts with bassist Andy Bellís ringing Turn up the Sun. A soft intro, the guitars pick up the pace, and Liam launches in with "I carry madness everywhere I go". The smart The Importance of Being Lazy is the best performance on the album, beautifully sung and threaded with desire, somewhat like Iím Only Sleeping. The album is not an ode to the past and its sound is nowhere near as raw or guitar-based as Whatís The Story Morning Glory. Oasis is capable of conjuring up moments that are genuinely enjoyable. Donít Believe The Truth is the foundation of the Oasis revival.

Best track: Let there be Love
Worst track: A Bell will Ring