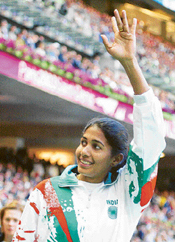 On the global track
Despite the absence of some top names, the World Athletics Championships promise high-quality international fare, writes John Mehaffey
American sprinters, African distance runners, Swedish jumpers and Cuban throwers give a genuinely global dimension to the 10th World Athletics Championships starting in Helsinki on August 6. After 22 years the championships will return to the Finnish capital where the first world championships were staged in a radically different world.



Long jumper Anju Bobby George would have to perform exceedingly well to win a medal in Helsinki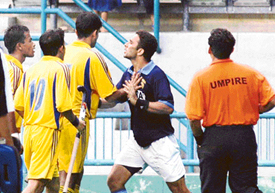 The more the murkier
M.S. Unnikrishnan
"Two's company, three's a crowd" is the general refrain voiced by top sportspersons and officials about the utility of the third umpire. The latter's introduction was seen as an ultimate move to ensure foolproof decisions in sports.

Deepak Thakur (centre) and a Malaysian player lock horns during the Sultan Azlan Shah hockey tournament. If the on-field umpire remains fair and keeps things under control, there is hardly any need for the third umpire. — Photos: PTI, Reuters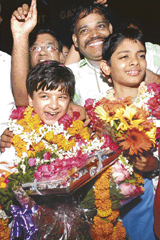 IN THE NEWS
Wonder kids
Sahaj Grover, the under-10 world chess champion, is quite unlike children of his age in many ways. The nine-year-old prodigy, a student of Class V at Kulachi Hansraj Model School, Delhi, neither sits in front of the idiot box nor has a fascination for cricket. "I do not have a TV at my home," comes the surprise reply from the little one. "Anyway, they show only cricket on the TV," says Sahaj, a football fan, expressing his dislike for cricket.



Future Anands: Chess is child's play for world champions Sahaj Grover (left) and N. Srinath