PUNJAB

HARYANA

JAMMU & KASHMIR

HIMACHAL

REGIONAL BRIEFS

NATION

OPINIONS

MAILBAG

BUSINESS

SPORTS

WORLD
Sunday, August 7, 2005, Chandigarh, India
Updated at 3:00 am (IST)

India, Pak okay pact on ballistic missiles
New Delhi, August 6
India and Pakistan tonight reached an understanding on the proposed Agreement on Pre-Notification of Flight Testing of Ballistic Missiles which commits both sides to pre-notify in a structured format flight testing of ballistic missiles. The two countries also agreed to operationalise the hotline between their Foreign Secretaries from next month to prevent misunderstandings and reduce risks relevant to nuclear issues.
CAST YOUR VOTE
Should the names of persons against whom non-bailable warrants have not been executed be deleted from electoral rolls?


LUDHIANA

JALANDHAR

AMRITSAR

DELHI

FORUM

EDUCATION

JOBS & CAREERS

HEALTH & FITNESS

SCIENCE & TECHNOLOGY

SPORTS

SOCIETY

TRIBUNE CLASSIFIEDS

BRIDES WANTED

GROOMS WANTED

OTHERS

HOW TO PLACE ADVTS
In Society today
India, Dhaka to intensify border patrolling
Dhaka, August 6
Putting behind the recent strains in bilateral ties in the run-up to the SAARC Summit, India and Bangladesh today decided to intensify border patrolling and work out ways to enhance trade and economic cooperation, but differences persisted on the problem of illegal migration from this country.

Opinions page: Security and foreign policy imperatives

Shimla, August 6
Several areas of the state were lashed by heavy rains, causing damage to crops and triggering landslides. The rains accompanied by high velocity winds damaged maize crop in Hamirpur district.
A major landslide on the Mall Road in Shimla on Saturday. — Photo by Anil Dayal

| | |
| --- | --- |
| | |
| | |
| | HIMACHAL: Dhumal seeks probe against HPU VC |
| | DELHI: Ghazipur abattoir issue: MCD rebuts allegations of corruption and delay |
| | |
| | CHANDIGARH: Hawara to be present in Beant case trial daily |
| | LUDHIANA: 3 quintal of spurious ghee seized |
| | OPINIONS: Security and foreign policy imperatives |
| | BUSINESS: Govt to promote gas as preferred fuel |
| | NATION: UP Governor's axe falls on VCs |
| | |
| | |
QUOTE OF THE DAY
While we have some differences in our interpretation of the 1975 guidelines, both sides are committed to maintaining a peaceful, trouble-free border.
— Natwar Singh
THE TRIBUNE MAGAZINES
On Sundays

On Saturdays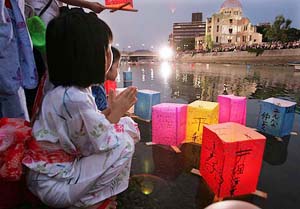 A Japanese child in "yukata" (traditional summer kimono) offers prayers as she floats paper lanterns for atomic bomb victims, along the city's Motoyasu River, near ground zero, Hiroshima, on Saturday. Tens of thousands of people from around the world gathered in Hiroshima on Saturday to renew calls for the abolition of nuclear arms on the 60th anniversary of the atomic bombing of the city. Seen in the background is the gutted A-bomb Dome. — Reuters
Blockade by Naga outfit continues
New Delhi, August 6
The failure of the Ibobi Singh government in Manipur to ensure the lifting of the economic blockade on the National Highway- 39 by the All Naga Students Association of Manipur (ANSAM) has prompted the Centre to initiate certain emergency measures to prevent the situation from getting out of hand.
I'll not rejoin LS, says Mamata
Kolkata, August 6
Ms Mamata Banerjee has conveyed to her close party colleagues that she will not be rejoining the Lok Sabha. She wants the Trinamool Congress to launch a "save democracy campaign" in Bengal soon as part of the electioneering in the forthcoming state Assembly poll due early next year.
Cabinet expedites Bill clearance
New Delhi, August 6
The Union Cabinet has gone into an overdrive to clear pending legislations after UPA Chairperson Sonia Gandhi conveyed her displeasure at the slow progress in enacting laws promised in the government's Common Minimum Programme (CMP).


No complaint of quality: milkmen
Chandigarh, August 6
The Chandigarh Periphery Milkmen Union and the Punjab Milkmen Union today accused vested interests, including multinational companies, for launching a concerted campaign to oust them for monopolising the milk trade in the region.


E - Revolution 2005:
A Two-day IT conclave

Assembly Elections - 2005

Turbans

Chandigarh is 50

EARLIER FEATURES
Delete names of criminals from rolls
August 6, 2005
Afzal to die; Shaukat gets 10-year jail term
August 5, 2005
Indo-US nuke deal reciprocal
August 4, 2005
Sonia wants stamp papers abolished
August 3, 2005
Mumbai reels under another deluge
August 2, 2005
Advani must go by October
August 1, 2005
Srinagar terror drama ends
July 31, 2005
No compromise on strategic interests
July 30, 2005
200 trapped in landslides
July 29, 2005
Gurgaon DC, SP told to go on leave
July 28, 2005
Gurgaon rocks Parliament
July 27, 2005