No child's play this
Gayatri Rajwade
Dheera Kitchlu overcame a learning disability to teach children the fun way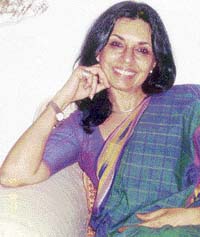 Dheera Kitchlu
Children's author Dheera Kitchlu has just finished writing from A to Z. Her latest series of six books to familiarise the pre-primary child with phonetic sounds is written and illustrated by her. Amusing characters and creatures representing each letter of the alphabet have been created and woven into humorous everyday stories highlighting the phonetic sounds along with charming visuals to entice the little reader.
Fun with Alphabet Stories says Dheera, "is a way of respecting children because we still do not allow them to have fun while learning."
Dheera believes she was a "late bloomer"! She started out by creating stories with a puppet called Sheru, to teach her young daughter Indian traditions and culture when she asked just how many pennies she owed her mother? This and a lifelong 'skirmish' with a reading disability, has led her to write for little children full time.
Her creative abilities were put to the test as a teacher for tiny-tots in a nursery in Mumbai where she moved after her marriage. "As a child I had problems writing, spelling and most of all reading aloud. My teachers were rough and treated me like an idiot. When I saw a child struggling with words I could empathise with what the little one was going through."
The revelation came in 1987. Almost six years into teaching tiny-tots at the Sophia Nursery, Dheera decided to do an Early Childhood Care and Education (ECCE) programme at the Sophia Polytechnic to qualify as a teacher. One of the papers dealt with learning disabilities. "I was mesmerised. To discover that I was dyslexic gave me great heart. I also knew I could conquer it now and help other little children combat their uncertainties."
A chance to become the Acting Principal of the nursery enabled her to put together everything she had learnt through her modules with her own motley experiences. "We tried out many new teaching methods and experiments and it was a very fruitful year. We changed the curriculum and laid stress on the weaker children being brought to the fore." The changes were felt directly by the children.
Dheera recounts how one little preschooler told her to stop telling them stories and start teaching them otherwise they would not get into Big School! "I considered it to be the biggest compliment I could get," laughs Dheera.
Also at this time, her children needed poems, stories, plays for their school, for elocution, dramatics workshops and for inter-house competitions. Dheera started to write for them and this led to Radio plays, in-flight entertainment programs for young children and finally to writing for a soap on television, Saara Jahan Hamara about children and adoption.
The soap wound down, but the concept fuelled Dheera's imagination and she wrote and illustrated Your Story in 1994, a picture book read aloud (for three year olds and over) to help parents explain the concept of adoption to the child that they have taken on. The book today is given to all parents when they come to adopt children at centres in Mumbai.
A bundle of books followed. My Friend Sadhu Shiva (Fingerprint Publications) in 2001, Granny's Greek Tales (Rupa Publications) in 2002, and in 2003, The National Association for the Blind (NAB) in Mumbai, commissioned Dheera to write a book on the spirit of blind women. Darkness to Light: Stories of Uncommon Courage by Blind Women Achievers was born.
This association has been a long and prolific one as Dheera continues to work with NAB on their various projects converting children's stories into Braille and into cassettes to enable blind children to access literature.
"Most children's books are sourced from abroad, it is only recently, in the last three or four years, that people are writing for young ones. Instead of Enid Blyton's flaxen-haired Amelia Jane I wanted children to be able to read about characters which they can identify with," says Dheera, 36.
Writing for children is where her passion lies and she spends her day reading, researching and scribbling. She has great expectations from Fun with Alphabet Stories for it has been the "most fulfilling work" she believes she has ever done, especially since the vocabulary has been researched and found to be appropriate for the pre-primary child.
So here is where we get to meet Vithal the Viper who lives in a garden of violets or Andy the ant-eater who does not eat ants but only apples.
Happy reading.