OFF THE SHELF
Jinnah's tragic love
V.N. Datta
Ruttie Jinnah: The Story, Told and Untold
by Khwaja Razi Haider. Pakistan Study Centre, University of Karachi, Karachi. Pages 194. Price not stated.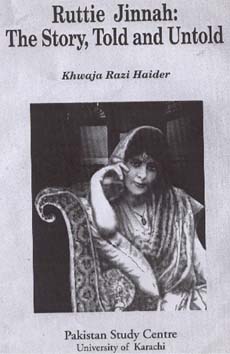 A great deal has been written on Jinnah's role in the making of Pakistan, but little is known of his private and personal life. This was because he wrote little, and what he wrote was formal and a matter of fact. Some of his letters read like telegrams. He wrote no autobiography or diary, as he had no literary flair. He was reserved, taciturn and secretive. He wrote his will in May, 1939, but it was after his death that Liaquat Ali Khan, his close associate, came to know that he was its trustee and executor.
The book under review focuses on Jinnah's conjugal relationship with his wife, Rattenbai, popularly known as Ruttie. The author Khwaja Rai Haider, a researcher of the freedom movement in Pakistan, has reconstructed the Jinnah-Ruttie relationship not on the basis of what they wrote to each other, but what others have written about them.
Jinnah married his fabulously rich and renowned magnate Parsi friend Sir Dinshaw Petit's daughter, Ruttie, when she was 18 and he was 42. Love has no logic. Sir Dinshaw opposed her daughter marrying Jinnah, but she stood firm and walked out of her parental home to which she was never to return.
Ruttie got converted to Islam. The marriage took place on April 19, 1918, under the Muslim Shiite doctrine at the Jamia mosque, Bomaby. Jinnah paid Rs120,000 as haq mehr to Ruttie. The couple spent their honeymoon in Naini Tal at the Raja of Mahmudabad's mansion. Recollecting her meeting with Ruttie, the Raja wrote, "I felt a very charming and enchanting fragrance from her body which is still living in my soul." Dewan Chiman Lall, Jinnah's friend and a prominent Congress leader of Punjab, while recalling his association with Ruttie wrote, "There is not a woman in the world today to handle a candle to her for beauty and charm." Chiman Lall, whom Ruttie addressed as 'Chum', sighed for her as a lover, which is confirmed by his nephew Manohar Lal Tandon, a resident of Amritsar.
Ruttie was a dazzling beauty, vivacious and sprightly, full of life, with exquisite tastes and affable manners. With long hair decked in ever-fresh flowers, she was easily one of the most well-dressed women. Quick witted, she moved freely in the elitist circles of Bombay.
The author throws light on Ruttie's life-style. Reading and horse-riding were her pleasures. She recited English poetry, and her favourite poet was Oscar Wilde. Besides law, Jinnah's special interest lay in Shakespeare. While in London, he had acted in some of Shakespearean plays. He had thought of taking acting as his profession. Possibly, his interest in Shakespeare gave him insight into the intricacies of human character which he was to use for grasping the essentials of Indian politics.
After their marriage, the couple travelled a lot in India and abroad. Ruttie watched
with a great sense of pride the feverish political activity of her husband. She came closely in touch with Mahatma Gandhi who advised her to speak in Hindi or Gujarati. The author narrates Jinnah's encounter with Lord Willingdon, Governor of Bombay, who had invited Jinnah and his wife for dinner in Government House. Ruttie's unconventional and "low-cut dress" upset Lady Willington who asked her A.D.C. to bring in a wrap for her. At this remark, Jinnah said, "When Mrs Jinnah needs a wrap, she will ask for it." Thereafter, the couple walked out of the house.
According to the author, the relations between Jinnah and Ruttie became strained in January 1928. She fell ill and shifted to the Taj Mahal hotel. Accompanied by her mother, she went to Paris for medical treatment. Dewan Chiman Lall, who found her "delirious" in a Paris clinic, states that again both Jinnah and Ruttie quarreled. Ruttie returned to the Taj Mahal hotel on October 26, 1928, while Jinnah too reached Bombay. Ruttie's condition deterioted, and finally, death struck her on her birthday, February 20, 1929.
What did she die of remains hidden—was it colic pain? No one knows. And what caused the ruination of Jinnah-Ruttie marriage? Was it incompatibility of temperaments—a cold, introvert and commanding personality of Jinnah on one side, and a young, extrovert, glamorous girl on the other`85? A line in her letter to Jinnah dated October, 1928, is significant: "Try to remember my beloved the flower you plucked, but not the flower you tread."
I think Ruttie's illness was psychological due to mental tension. She found it difficult to live with Jinnah and felt suffocated. She sought for solace in occultism, mysticism and sorcery, which were repellent to a rationalist like Jinnah. It was death that released her from her anguish and suffering. But what caused her death remains a mystery to this writer.