Platform for new voices
A clutch of striking debut films at the Osian festival shows that the future of Hindi cinema is not as bleak as it might appear. Saibal Chatterjee reports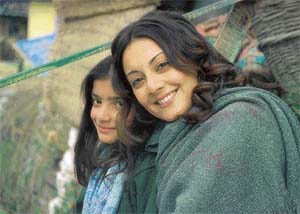 Minissha Lamba in a scene from Yahaan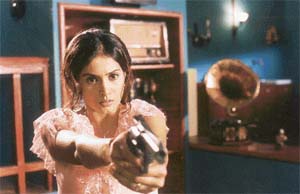 Sonali Kulkarni in Dansh
THE 7th Osian's-Cinefan Film Festival (OCFF), a wonderful showcase of the best of Asian cinema, had no dearth of great films. Screened during the 10-day event in mid-July were five films each of the late Satyajit Ray and Taiwanese master Hou Hsiao-Hsien.
Also on show in various sections of the festival were films by hotshot directors like Hong Kong's Wong Kar-Wai and Johnnie To, Taiwan's Tsai Ming-Liang, Iran's Dariush Mehrjui, Turkey's Atif Yilmaz, Cambodia's Rithy Panh, Thailand's Apichatpong Weerasethakul, Korea's Im Kwon-Taek and India's Buddhadeb Dasgupta.
The last named filmmaker's latest work, the exquisitely crafted Kaalpurush – Memories in the Mist, earned the honour of being the closing film of the 7th OCFF. The lively festival had kicked off with the equally engaging Shanghai Dreams, directed by China's Wang Xiaoshuai.
The biggest appeal of a film festival of this kind, however, lies in the surprises that it often throws up in the form of little gems made by first-time directors. In this category were films like Iranian actress-turned-director Niki Karimi's One Night, Vietnamese debutant Nguyen Vo Minh's Buffalo Boy and Chinese cinematographer Hou Yong's directorial debut, Jasmine Women.
The Delhi-based Jahar Kanungo's maiden feature film in Bengali, Nisshabd (Reaching Silence), also made a strong impression on cineastes. The Indo-French co-production went on to win the Best Film Award in the Indian Competition section of the 7th OCFF.
Particularly noteworthy were Ruchi Narain's Kal – Yesterday and Tomorrow, winner of the Indian Critics' Award, Kanika Verma's Dansh and Shoojit Sircar's Yahaan, which bagged a Special Jury Prize in the Indian Competition section.
Yahaan, a love story set in strife-torn Kashmir, employs an array of mainstream Bollywood conventions to carve out a remarkably watchable interplay of insights into the ground realities, lyrical flights of fancy and moments of pure visual magic.
The film is a sensitive exploration of love in the time of war, of the meaning of freedom, of the value of peace and of the human cost of violent conflict.
Dansh, directed by debutante Kanika Verma and produced and written by Anish Ranjan, was by far the most experimental Mumbai film in the 7th OCFF line-up. The fact that it did not end up winning an award wasn't a fair reflection on its quality as a film.
The first Hindi film ever to be set entirely in Mizoram, Dansh blends unusual narrative elements, consistently great acting and gripping drama to great effect. The 'action' takes place in the confines of a single house and the actors convey emotions through their faces and eyes rather than their hands and bodies.
It's 1986 and Prime Minister Rajiv Gandhi and Mizo National Front (MNF) supremo Laldenga have just signed the Mizo accord. As Mizoram sits on the cusp of the dawn of peace after 30 years of armed struggle, three characters, a MNF spokesman (Kay Kay Menon), his activist wife (Sonali Kulkarni) and a doctor (Aditya Srivastava) play out a fascinating drama of psychological attrition in the course of a single night.
"The history of the place drew me to Mizoram." says Verma, a Political Science graduate from Lady Shriram College, New Delhi. "It is the only northeastern state that has made the transition to peace after decades of unrest."
Dansh revolves around a female guerrilla warrior haunted by the atrocities heaped on her during confinement in an Army camp, a civilian physician who may or may not have been the perpetrator of the crime and the woman's husband who is preparing for surrender and a new life of political power on the morrow.
Kal – Yesterday and Tomorrow is also the handiwork of a director who describes herself as "a Delhi girl" who grew up in Dubai, Colombo and Muscat before making the move to Mumbai about a decade ago. Ruchi Narain packs her debut film with virtually everything she can cull out from her own experiences in the city of dreams and inventively meshes it with elements of fiction.
The film tells a robust, sweeping tale that crackles with energy and displays loads of confidence. It flirts with danger all the way through. It seeks to do too much. It melds an array of genres – a love story, an urban angst drama, a saga of corporate intrigue and a murder mystery. If the film emerges largely unscathed from its dizzyingly zigzag narrative trajectory, it is primarily because of its integrity and its undeniable stylistic flair.
Much of the film, by Narain's admission, is drawn from real life – her own. The pain of the female protagonist, Bhavna Dayal (played brilliantly by Chitrangada Singh), the photographer-daughter of a corporate honcho (Boman Irani) who cannot get over her messy break-up with her husband, social climber Tarun Haksar (Shiney Ahuja), contains elements of autobiography.
Encouragingly, none of these three films is destined to languish in the cans. While Yahaan is already in the theatres, Kal is scheduled for release in August. Dansh, too, is in the queue. Clearly, a new breed of young Mumbai filmmakers is pursuing its creative beliefs with aggression. Pre-release exposure at the 7th OCFF has only strengthened their cause.