Workshop on composition ends
Tribune Reporters

Ludhiana, August 7
A two-day workshop on composition organised by the PG Department of Fine Arts, Khalsa College for Women, concluded here yesterday. Dr Baldev Gambhir, former Head of the PG Department of Drawing and Painting, BBK DAV College for Women, Amritsar, inaugurated the workshop. Principal Dr (Ms) Varinder Kaur Thind, Ms Kiran Kapoor, Head, PG Department of Fine Arts, staff members and students were present at the workshop.

Dr Gambhir delivered a lecture on the definition and rules of composition. He also gave a detailed account of the journey of art from the ancient to the modern times. Talking about eminent artists like Amrita Shergill, K.K. Hebber, Pablo Picasso and M.F. Hussain, he explained their techniques in painting.

He explained the importance of line and colour and also taught students how to achieve a sense of balance in their work. He demonstrated how brush strokes could help the student express his inner feelings.

Thereafter, the students were given topics for composition. The topic "Mother and child" was given to students of MA-I and 'Folk art of India' to MA-II students.

Dr Gambhir was full of praise for teachers of the Fine Arts Department of the college. He found them dedicated, hard-working and co-operative. He declared the college the best among the colleges of Punjab and Chandigarh.

After examining the work of the students, he opined that the students had great potential. He said "art was long but life was short". He encouraged students to work with devotion.

Farewell party:

A farewell party was given to the third year students of Mata Saraswati Institute of Nursing Education by first and second year students. A variety entertainment programme was organised by the students. The programme was well-attended by people from all walks of life.

Annie was declared Ms Fresher, Harjit was the first runners-up and Raman Jassal the second runners-up. Sukhwinder was given the title Ms Beautiful and Sonia bagged the title of Ms Beautiful Hair.

Toppers:

Rajneet Kaur of Government College for Women has secured the first position in MA I Music (Instrumental) in Panjab University. She secured 303 marks out of 400 marks. Rajpreet Kaur of same college bagged the third position, scoring 296 marks.

Mock CAT:

Top Careers and You held a mock CAT for MBA aspirants in the region here on Sunday. It was a two-hour test consisting of verbal ability, quantitative aptitude, data analysis and reasoning sections.

Mr K.B.Sharma, at TCY said CAT was all about time management, speed and aptitude. Having a cool temperament and handling pressure at the time of exams required a lot of practice. He took up various topics under the verbal section and explained the score pattern in each section.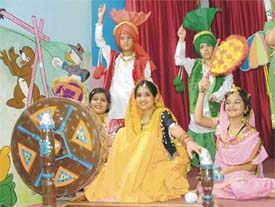 Students of Love Dale celebrate Teej in Ludhiana on Sunday. — Photo by Inderjit Verma

Teej celebrations:

Partap Public School, Hambra road, celebrated Teej on the school premises here today. Students came dressed up in colourful traditional dresses. A cultural programme was also organised on the occasion. Gurpreet Kaur of Class VII was declared 'Miss Teej'.

Teej was also celebrated at Bharatiya Vidya Mandir, Dugri branch. The celebrations started with a dance competition. Later, children had kheer-puda as part of the celebrations. They enjoyed swings and played traditional games.

The Principal, Ms Anu Gupta, gave away the prizes to the winners of dance competition and told the students about the importance of the festival.

A function was also held at Dr M.L. Punj Memorial Holdy Heart Public School, Punjab Mata Nagar, here on Saturday. A cultural programme was organised to mark the occasion. Dance, song, fancy dress, bhangra and giddha items were presented. A jhoola was specially decorated for the occasion.

Senior girls danced on various foot-tapping Punjabi numbers. Bhangra performed by master Harjot Singh was appreciated by all.

The Principal, Ms Saroj Punj, addressed the students. Tajinder Kaur of Class XII was declared Teej Queen.

Teej was also celebrated at Love Dale school.