Biotech beckons
With the biotechnology sector expected to add 10 lakh jobs by 2012, it is a happening career destination, writes Neeraj Bagga
FROM the present employee strength of 50,000, the number of jobs in the biotechnology sector is projected to increase by 10 lakh by 2012. Set to witness an IT-like revolution in the country, this field is now a hot career option for students. Biotechnology is a multi-disciplinary course that aims to meet the growing demand for trained manpower in the field.

Careercature
Sandeep Joshi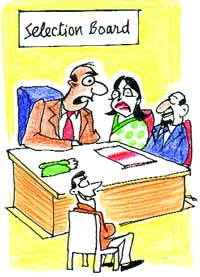 Names of freedom fighters? Aamir Khan, Sunny Deol...

Giving future managers an artistic perspective
THE India Foundation for the Arts has launched a course at MICA, Ahmedabad, to help the budding business leaders to draw inspiration from the arts. Artists will hold dialogues on dissatisfaction as a source of creativity, the need to face up to tensions and battles that might rage between one's ideological moorings and one's professional interests and commitments, which will help the students in their professions.

Trendmill
More UK companies to outsource work to India
EIGHT out of 10 'large' UK companies plan to shift business to countries, including India and China, in the next two or three years to cut costs, according to a survey by TPI, the largest outsourcing adviser. Of the 100 executives questioned for a survey by London-based TPI, 81 said they'll boost offshore outsourcing as the process matures, TPI said. Only 4 per cent intend to decrease it.

Smart Skills
The X-ray factor
Usha Albuquerque
Radiography holds bright prospects for students wanting to opt for a career in paramedical science.
I keep getting many job offers from some of the new hospitals, but I enjoy my work here," Simran, the ECG technician, told me as she deftly wrapped a web of wires across my chest and efficiently conducted the tests. With the increase in medical facilities, hospitals, healthcare centers, polyclinics, nursing homes and diagnostic centres, it's not surprising that professionals like Simran are in great demand.

Workability
Retired IAF pilots can augment workforce in civil aviation
OBSERVING that a number of tangible benefits could accrue from military aviation, a senior former IAF officer has said about 6,000 aviation officials who retire from service annually can enrich the work force in the civil sector.

Career Hotline


Score well as company secy
Pervin Malhotra
Q I have secured 49 per cent aggregate in Class XII. Can you please tell me if I have to appear in a qualifying exam in order to enrol for a course in company secretaryship.

It adds up to maths
Low-stress jobs