Wednesday, August 10, 2005
Biotech beckons
With the biotechnology sector expected to add 10 lakh jobs by 2012, it is a happening career destination, writes Neeraj Bagga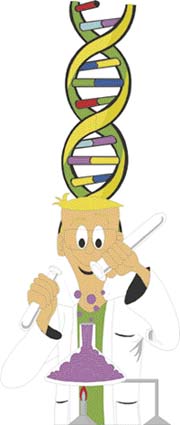 FROM the present employee strength of 50,000, the number of jobs in the biotechnology sector is projected to increase by 10 lakh by 2012. Set to witness an IT-like revolution in the country, this field is now a hot career option for students.
Biotechnology is a multi-disciplinary course that aims to meet the growing demand for trained manpower in the field. The programmes are designed to expose the students to recent developments in the areas of genetic engineering and biotechnology and their application in industry, agriculture and medicine.
The study of biotechnology covers varied subjects like food, agriculture, pharmaceuticals, industrial crops, genetic engineering, environment and so on. The Department of Biotechnology, Guru Nanak Dev University (GNDU), Amritsar, is one of the destinations for students aiming to do a Master's and/or Ph.D in this subject. It has 16 seats for its M.Sc course in biotech.
Eligibility
The students who have a Bachelor's degree in physical, biological, agricultural, veterinary or fishery sciences, pharmacy, engineering/technology, or those who've done a four-year B.S (Physician Assistant) course, or MBBS/BDS course with at least 55 per cent marks can apply for the biotech programme. Admission is made on the basis of a national-level Combined Entrance Examination held every year at about 55 centres.
Leading educationists of the country have been advocating uniformity in syllabus for all university-level courses throughout India. Biotechnology is one of the subjects that has a uniform syllabus.
The GNDU's Biotechnology Department is the only department that is a part of the national centre and receives a regular annual grant of Rs 7 lakh. Besides, each student is given Rs 800 as scholarship per month.
Placement prospects
After completing their M.Sc, biotech students can be absorbed in a variety of organisations—private, corporate and government. Companies associated with pharmaceuticals, plant biotechnology, plant tissue culture and industries involved in manufacturing commercially important enzymes, in vaccine development, crop improvement and animal husbandry need biotechnologists.
For instance, Nisha of Jammu, who did her M.Sc in biotech from GNDU this year, has been selected in the Indian Institute of Sciences (IISc), Bangalore. Vishal Chaturvedi of Ajmer and Prabhjot Singh of New Delhi, both of whom also passed out this year, received JRF fellowships in the Department of Biotechnology, Government of India, and the CSIR, Hyderabad, respectively.
The department is carrying out research in advance methodology of biotechnology, including molecular biology for drought adaptation of crops, production of industrially important enzymes, application of tissue culture for producing pharmaceutically active compounds from plants and neuronal plasticity in adult brain.
Course clues
During the two-year course M.Sc programme, students are imparted theoretical and practical training in cell biology, biomolecules, biochemical and biophysical techniques, biology of immune system, microbial physiology and molecular genetics.
Students are also trained in specialised areas of plant tissue culture, animal tissue culture, molecular biology, genetic engineering (tools and techniques), bioprocess engineering and technology, fermentation technology, genetic engineering applications, computer applications and bio-statistics, genomic and functional genomic.
In the last leg of the course, students are required to work on a small independent research project to sharpen their scientific skills and knowledge. Graded seminars are also conducted.
In addition, students have to undergo training in biotechnology-based industries for two months.
Future scenario
Out of all areas of biotechnology, bioinformatics has acquired great importance and progressed phenomenally. Bioinformatics is an evolving science defined as the generation, organisation and analysis of biological data. It encompasses all biological phenomenon. It is an emerging field that lies at the intersection of biology, information technology, computer science and genetic engineering and is used extensively in leading research laboratories, hospitals and pharmaceutical and agri-technical corporations.
Sensing its potential, the Department of Biotechnology, Government of India, has sanctioned a Distributed Informatics Sub-Centre (DISC) for the GNDU with all the required infrastructure. The objective of the DISC is to access worldwide biotechnology information from international resources, to act as the nodal point for the national bioinformatics network designed to bridge the inter-disciplinary gaps in biotechnology information, to establish links among scientists in this region with other organisations involved in R&D and manufacturing activities.
A national-level Combined Entrance Examination is held annually and the selected students are placed in the following 29 universities to pursue their M.Sc in biotechnology:
University of Allahabad, Allahabad; Annamalai University, Tamil Nadu; Banaras Hindu University, Varanasi; Calicut University, Kerala; Devi Ahilya University, Indore; Goa University, Goa; Gujarat University, Ahmedabad; Guibarga University, Gulbarga; Guru Jambheshwar University, Hisar; Himachal Pradesh University, Shimla; University of Hyderabad, Hyderabad; University of Jammu, Jammu; Jawahar Lal Nehru University, New Delhi; Kumaun University, Nainital; University of Lucknow, Lucknow; Madurai Kamraj University, Madurai; M.S. University of Baroda, University of Mysore; Nagpur University; University of North Bengal, Siliguri; Panjab University, Chandigarh; Pondicherry University; University of Pune; Punjabi University, Patiala; Sardar Patel University, Gujarat; Tejpur University, Tejpur; Thapar Institute of Engineering and Technology, Patiala; and Utkal University, Bhubaneswar.
Course chat
Biotech boom has led to spurt in R&D work


Prabhjeet Singh
— Photo by Rajiv Sharma
Dr Prabhjeet Singh, Head, Department of Biotechnology, GNDU, Amritsar, has been teaching since 1991. He was awarded visiting fellowship for two years to carry out research in the Hong Kong University of Science and Technology and has been given research projects worth Rs 1 crore by various national funding agencies. His articles on biotechnology have been published in various international journals. Here, he spells out the work prospects in this field:
What are the job opportunities in biotechnology?
With private companies in India evincing interest in R&D, biotechnology is set to witness a boom. It would open new fields for the students.
Some of the top Indian industries, especially pharmaceuticals, have already established R&D facilities. Other industries too are evincing keen interest in it. The biotech sector would thus need a number of experts.
What are the options before students after completing their M. Sc?
A majority of students after completing their masters' degree opt for Ph.D. A large number of them go to European and American universities for their doctorate, after which a whole new world opens before them. Between 1993 and 2004, out of the 130 students who passed out, 96 opted for Ph.D, 12 joined the industry and five took up teaching. Thirty per cent of them went abroad for higher studies.
Why are a majority of biotech students not joining the industry?
The mental faculties of the students grow considerably after doing their Master's in this field. But the industry in India does not offer them a matching level of jobs. Moreover, the R&D sector is the most neglected aspect of our industry.
Any new courses in the offing?
The university is contemplating the introduction of a diploma in bioinformatics. The department has adequate infrastructure to run the course. It would give an edge to students to have an in-depth knowledge in the subject, which is making its mark in a big way all over the world.
What was the placement scene this year?
Ten out of 16 of our students got absorbed in the private sector or received fellowships.
— Neeraj Bagga