Wednesday, August 10, 2005
Smart Skills
The X-ray factor
Usha Albuquerque
Radiography holds bright prospects for students wanting to opt for a career in paramedical science.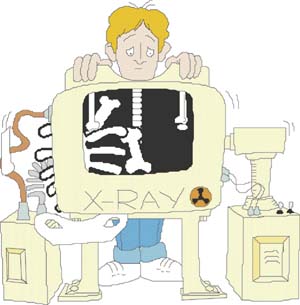 I keep getting many job offers from some of the new hospitals, but I enjoy my work here," Simran, the ECG technician, told me as she deftly wrapped a web of wires across my chest and efficiently conducted the tests. With the increase in medical facilities, hospitals, healthcare centers, polyclinics, nursing homes and diagnostic centres, it's not surprising that professionals like Simran are in great demand. Today, not only is there a growing need for trained doctors and surgeons, but also for various paramedical experts and technicians like Simran. These paramedical professionals play an important role in assisting the doctor make an accurate diagnosis for the treatment, cure and care of patients.
Technology in the field of medicine is advancing by leaps and bounds. As a result, the need for trained personnel to operate, utilise and interpret the new equipment is also increasing rapidly. Radiography, radiotherapy and radiation medicine have become important tools in the treatment and diagnosis of a large number of diseases, including cancer, tumours and ulcers.
Work wise
The work of radiological technicians is both diagnostic and therapeutic. They can specialise in radiography, radiation medicine, sonography or nuclear medicine. These technologies are increasingly being used to help doctors identify the causes of illness, as well as for the treatment of certain diseases, which require radiation medicine. Radiographers work with medically qualified radiologists and take X-ray photographs which provide images of the body tissues, bones and organs for doctors to diagnose diseases and injuries and carry out treatment. They also operate ultrasound and other high-tech equipments for CT scans and MR scans of patients. Moreover, they also assist qualified radiologists in the treatment, usually for malignant diseases, by means of radiation.
Radiotherapists, through the means of radiotherapy, treat patients' illness by using radio isotopes.
Radiographers need to know and monitor the levels of radiation exposure through correct positioning, and shielding of body parts not to be exposed, thereby ensuring against over exposure to harmful radiation.
Radiographers and x-ray technicians are exposed to radiation and spend a lot of time in dimly lit rooms. They must, therefore, wear protective gear. Women in particular need to be extremely careful in handling radioactive material.
Training talk
To get into this field you need to have the necessary training. Most of the courses in radiography require a plus two, with a minimum of 50 per cent marks in mathematics, physics and chemistry. There is a three-year B.Sc course in radiography, and radiotherapy, as also two-year diploma courses for medical technicians to qualify in this field. Postgraduate courses are also available for graduates.
Various institutions all over the country offer professional training in radiography, both, at the graduate and postgraduate level. The duration of these courses varies between one to two years.
The All-India Institute of Medical Sciences, New Delhi, the University College of Medical Sciences, GTB Hospital, Shahdara, Delhi, and the PGIMER in Chandigarh are some of the institutes offering the three-year degree course in radiography. The PGIMER also offers a course in radiotherapy.
Certificate courses in radiography, of 18 months' duration, are offered at various institutions. Prominent among these are Madras Medical College, Chennai, S.M.S. Hospital in Jaipur and the Radiographer Training Centre, at G.B.Hospital in Tripura.
Certificate courses of a year's duration are offered at the Holy Family Hospital, Jamia Nagar, New Delhi, PGIMER Chandigarh, Allahabad Agricultural Institute, Allahabad, and PG Institute of Medical Sciences, Rohtak.
One year PG Diploma Certificate courses in radiography are offered in various institutes, including the K.G. Hospital in Vishakhapatnam and Osmania General Hospital in Hyderabad.
Personality profile
Along with academic qualifications, you also need patience, a scientific bent of mind, a liking for machines and technical equipment, an ability to organise and keep schedules, good eyesight, accurate judgement and precision and a methodical approach to work. Those who have a calm temperament, an understanding of people of all ages, temperaments and backgrounds, and a sympathetic, yet objective approach towards the patients will do well in this career. Working in a hospital or clinic also requires a spirit for teamwork, good powers of observation and meticulous record-keeping abilities. You should also not be allergic to chemicals of any kinds.
Job avenues
After training in a particular area, radiographers, radiotherapists, X-ray and ECG technicians can work in the X-ray and ultrasound and other diagnostic departments in hospitals, clinics, private nursing homes, public health organisations, research institutions, pharmaceutical concerns and as well as medical institutions controlled by defence, central and state governments. They can also opt for teaching, or go into nuclear medicine and research.
Prospects in the paramedical services — the medical support services — are extremely bright, especially since the need for professional and technical work in the various medical centers is increasing. With the introduction of newer sophisticated machinery, medical technologists are required not only to handle the equipment, but also to constantly upgrade their skills.
Moreover, paramedics like Simran derive great satisfaction from their work since it involves relieving patients from pain and helping them recover from specific physical ailments.
The writer is a noted career expert