Wednesday, August 10, 2005
Workability
Retired IAF pilots can augment workforce in civil aviation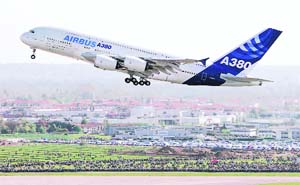 OBSERVING that a number of tangible benefits could accrue from military aviation, a senior former IAF officer has said about 6,000 aviation officials who retire from service annually can enrich the work force in the civil sector.
"The IAF sustains a large pool of highly disciplined and trained manpower. Approximately five per cent of the workforce, that is, 6,000 retire from service annually and are available to enrich the work force in the civil sector," Air Marshal (retd) B. K. Pandey, former Air Officer Commanding-in-Chief of the IAF's Training Command, said in an article in the latest issue of 'Indian Defence Review'.
His comments came in the wake of reports that over 100 Air Force pilots have joined the new and upcoming domestic airlines, which were facing a shortage of senior pilots.
The former IAF officer said the demand for trained military aviation officials had "quite suddenly acquired greater significance in the context of rising demand in the civil aviation sector, consequent to liberalisation, which has spurred the expansion of existing airlines and mushrooming of a large number of new ones based on the low cost model".
Observing that 14 of the 59 IAF airfields were meant for dual use and handling scheduled civilian air traffic on a regular basis, he said: "Other IAF airfields in remote areas can also be made available for civil air traffic with prior clearance", adding that some of these airfields were developed when proper road access did not exist.
On the R&D front, Air Marshal Pandey said the Indian aerospace industry, the R&D establishments and the IAF together constituted a huge aviation industrial network "albeit with adverse economy of scale".
He also referred to the IAF's internal security role, including airlifting of paramilitary forces to disturbed areas or their redeployment or the speedy reaction in counter-hijack operations.
While the overall economy was sensitive to spending on military aviation and could be regarded as "a necessary burden on the resources of the nation, there is no doubt that a number of tangible benefits do accrue and the overall beneficial effects outweigh the perceived retardants to national growth", Air Marshal Pandey said. — PTI