PUNJAB

HARYANA

JAMMU & KASHMIR

HIMACHAL

REGIONAL BRIEFS

NATION

OPINIONS

MAILBAG

BUSINESS

SPORTS

WORLD
Saturday, August 13, 2005, Chandigarh, India
Updated at 3:00 am (IST)

States can't enforce quota in private colleges: SC
New Delhi, August 12
Clearing the ambiguity about admissions in unaided private and minority professional institutions for medical, engineering, management and other courses across the country, the Supreme Court today ruled that the government had no right to foist a quota of its own students in such institutions. "Neither the policy of reservation can be enforced by the states nor any quota or percentage of admissions can be carved out to be appropriated by it in a minority or non-minority unaided educational institutions," the court said.


In video (28k, 56k)


CAST YOUR VOTE
Are women safe in Delhi?


LUDHIANA

JALANDHAR

AMRITSAR

DELHI

FORUM

EDUCATION

JOBS & CAREERS

HEALTH & FITNESS

SCIENCE & TECHNOLOGY

SPORTS

SOCIETY

TRIBUNE CLASSIFIEDS

BRIDES WANTED

GROOMS WANTED

OTHERS

HOW TO PLACE ADVTS

In Sports Tribune today
Bathinda refinery relaunched
Petrochemical plant proposed at Talwandi Sabo
Bathinda, August 12
The much awaited re-launch of the prestigious Rs 12,000-crore Guru Gobind Singh Refinery today coincided with the announcement of a proposed Rs 5,000-crore petrochemical plant in Talwandi Sabo. The HPCL also appeared keen to set up the plant.

Oil price hike: consumers to be least 'burdened'


Editorial: Refinery revival
Surveys in Mumbai to detect disease-hit
Mumbai, August 12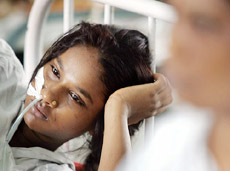 Health authorities in Mumbai, Thane, Panvel, Kalyan-Dombivli and nearby rural areas have begun door-to-door surveys to detect people suffering from water-borne diseases, Maharashtra Chief Minister Vilasrao Deshmukh said here today.
A woman suffering from a water-borne disease lies in a hospital in Mumbai on Friday. — Reuters photo


In video (28k, 56k)
Sri Lanka's Foreign Minister assassinated


Colombo, August 12
Sri Lanka's Foreign Minister Lakshman Kadirgamar was shot dead tonight. Kadirgamar, who had some 100 elite bodyguards to protect him, was returning to his private residence by car when a suspected sniper shot him on the head at Buller's Road, Colombo.


QUOTE OF THE DAY
I hope it becomes a good partnership among Dravid, Greg and I so that we can get a winning combination.
— Sourav Ganguly

THE TRIBUNE MAGAZINES
On Sundays

On Saturdays


Congress plans meeting of CMs
New Delhi, August 12
Congress president Sonia Gandhi is to turn her attention to pending organisational matters once the current Parliament session concludes this month-end. Two key events, the Chief Minister's conclave and the AICC plenary session, which have long been delayed for one reason or the other, are being planned in the coming months.

Badal should apologise for killings during militancy: Amarinder
Bathinda, August 12
Though it was the re-launch ceremony of the state's biggest industrial project, the platform was exploited to the hilt to fire salvos at the Shiromani Akali Dal and its chief, Mr Parkash Singh Badal, with the Chief Minister, Capt Amarinder Singh, leading the attack.

Centaur hotels' sale: CBI registers inquiries
New Delhi, August 12
In a first major step, the CBI has registered two preliminary inquiries into the alleged irregularities in the sale transactions of Hotel Juhu Centaur, Mumbai and Hotel Airport Centaur, Mumbai of Hotel Corporation of India Limited during the previous NDA government.


Sourav back in saddle
Mumbai, August 12
Sourav Ganguly was today handed back the captaincy of the Indian cricket team for the Zimbabwe tour later this month, with the national selectors reposing faith in the country's most successful skipper despite his indifferent batting form. — PTI
(Details on Sports page)

E - Revolution 2005:
A Two-day IT conclave

Assembly Elections - 2005

Turbans

Chandigarh is 50

EARLIER FEATURES
Manmohan apologises to Sikhs for '84 riots
August 12, 2005


Jagdish Tytler quits
August 11, 2005

Govt may amend ATR on Nanavati report
August 10, 2005
Nanavati pins Tytler for '84 riots
August 9, 2005
ULFA blasts oil pipelines in Assam
August 8, 2005
India, Pak okay pact on ballistic missiles
August 7, 2005
Delete names of criminals from rolls
August 6, 2005
Afzal to die; Shaukat gets 10-year jail term
August 5, 2005
Indo-US nuke deal reciprocal
August 4, 2005
Sonia wants stamp papers abolished
August 3, 2005