SIGHT & SOUND
Big B in a strait-jacket
Amita Malik

IT is a sign of the follies of television channels that they have had the audacity to try and dress up Amitabh Bachchan like a fashion plate for round two of KBC. Here is a man of tremendous dignity and poise, a man internationally respected as an actor, a highly educated man (which is not the case with many of our screen heroes) and a man of impeccable manners and charm. And they decide to put him in designer jackets. Now Big B has reached a stage in his life and career, where awe for his prodigious talent is mixed with respect for him as the elder statesman of Indian cinema. The leather designer jacket which was forced on him for the opening show did not sit comfortably on him. And the multi-coloured one on day two was more fit for a teenager or at the most for his son Abhishek in a Bunty aur Babli kind of film. Who thinks up these weird, conventional ideas such as dressing up a man, who in his personal and professional life has always dressed with taste, whether it has been a white pyjama-kurta for a family occasion or a well-cut suit for formal appearances. Let us not convert a noted screen presence into a fashion show and drag the man down to this sorry level.
Every week now seems disaster week. And the release and aftermath of the Nanavati Commission Report was one such disaster, a political disaster if you please. Justice Nanavati's delightfully vague and diplomatic answers when interviewed in both English and Hindi were symbolic of the whole report and the action, or inaction, taken on it. In sharp contrast were the angry reactions of the victims of the anti-Sikh riots of 1984. The interviews with the likes of Jagdish Tytler did nothing to make the viewers feel better. They made us feel worse.
In the good old days, serials and other programmes were limited to 13 episodes by Doordarshan. And now, they go on for years, aided by advertisements which take up more than half the time in the 30-minute episode. And now, whether it is the saas-bahu serials or others, strange twists and turns prolong serials beyond their credibility. Thus, in Astitva — Ek Prem Kahani while the reappearance of Kiran, Abhi's ex-wife, during his honeymoon with Dr Simran can be accepted as a legitimate coincidence, the continuous tantrums of Astha is making the serial a bit boring as well as stretching the viewer's patience.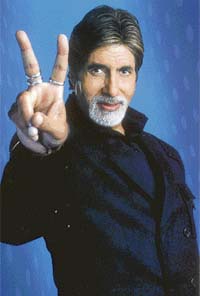 Bad Combo: Golden flicks with white beard
But having said all that, I must give full marks to this serial on two counts: Its casting and high quality of acting (except for actors changed in mid-stream) and its costumes are perfect. No one looks as if they have come out of a beauty parlour, but the chic teenage dresses of Astha as well as the sarees of those who wear them, from Abhimanyu's mother to Simran (18 years added to her sit far too lightly on her, another minor lapse) are impeccable and worn with poise, without anything being overdone and yet kept elegant.
Tailpiece: A professor of English keeps on asking me: "What is sharp news?" "Don't ask me," I reply wickedly, "You are the professor, I am only a student of English." Perhaps he should ask the sharp people who run Headlines Today. And I forgot to mention at the beginning, in the context of dressing up Big B in leather jackets, that they have also given him orange-coloured hair, like the women in saas-bahu serials. I hope, for the poor man's sake, that it is a wig, and he can take it off when he goes home. How can you pair orange hair with a white beard?
Star Plus, are you listening?