Days at Mayo relived
Priyanka Singh
Tin Fish by Sudeep Chakravarti. Penguin. Pages 236. Rs 250.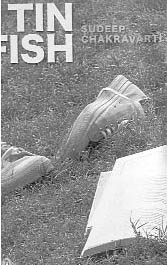 TIN Fish is funny and it is sad. It makes you giggle with its boyish, and sometimes wry, humour. It takes you through the lows with pretty much the same intensity. Feelings run deep here, even as there is a conscious effort to camouflage emotions—a typical boy-doing-the-big-man act.
The book is about a bunch of thick friends at the prized Mayo College, each struggling to fit the Mayo bill and trying to take charge of their lives. So we have Barun Ray, aka Brandy, who is in love with an older Sophia girl; PT Shoe, a princeling who wants to marry a gora chick; Fish, an ace swimmer who wants to be on the Indian Olympic team and who is also in love with a Muslim, much against the wishes of his presumptuously arrogant father; and Porridge, caught between warring churches at home. The whacky boarding lingo, the boyish Rajputana bravado, adolescent curiosities and rivalries, barmy obsession with anything girl, classroom goings-on and socials are fun, but the mood on the campus undergoes a profound transformation following the death of Brandy's mother and Fish's suicide. Their fishbowl existence is shaken and they wake up to the reality of the unsheltered world.
Life alters for Brandy, who is filled with simmering anger following his mother's death. He grows apart from his father and sister, but sees fresh hope in the older Samira. Fish knows he would never be allowed to chase his dreams and commits suicide while acting in a school play. Sudeep handles the grisly episode with sensitivity and the emotions that run through Fish's friends and mother are poignant.
The sudden deaths in a short span unhinge Brandy. The attempt at stolidity is empathetic and the support of friends is touching.
A Mayoite himself, Sudeep has worked on the Asian Wall Street Journal and India Today and is a columnist. His Tin Fish is a sort of book that takes you back to your boarding days. It took me to mine. When you reach the end, the book disappoints, but only because you wish it hadn't finished yet. There is so much more to know about Brandy and his chums. You are left wondering if life treated them kind and if they lived out their dreams and friendship. Sudeep rewinds your childhood and makes you relive its uninterrupted joys and its turbulence. His manner is lucid and he is a natural storyteller. As the Mayo boys would say: it is a breeze book.