Short Takes
Reel under censorship
Randeep Wadehra
Bollywood Unlicensed
by Derek Bose. Rupa. Pages xix + 220. Rs 195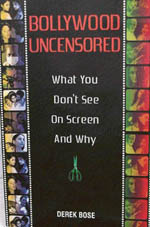 CENSORSHIP'S been a controversial issue in all liberal-democratic societies — more so in the post-Emergency India. It becomes all the more intense when performing arts, especially cinema, are involved. Should cinema be censored at all, if so, to what extent? There was a time when, in Britain, censorship was eulogised. Edward Shortt, President of the British Board of Film Censors, had described it in 1929 as "an instrument to mould the minds of the young" in order to create "good and noble citizens". The British rulers of India were equally rigorous in deleting dialogues from western films that had the potential to encourage their Indian subjects to demand liberty. Bose has painstakingly delved into the history of censorship in the Indian cinema. He's not only gone into the working of the Censor Board but has also investigated several controversies.




Lest we forget
by C.S. Kalra. University Today, Delhi. Pages 274. Rs 335.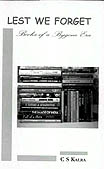 This volume's a collection of book reviews on subjects ranging from Soviet-style socialism to the Punjab problem and much else. You'll find these reviews erudite and intellectually stimulating, provided you factor in the passage of time since these had appeared in the journal, University Today. Some of the books may not be available in the market now, but certainly libraries would be stocking them. One of the Soviet era books reviewed here has 192 pages, priced at Rs 4.75. Academics and research scholars will find this tome useful.
Clear your bottlenecks
by Krishan Gupta. UBSPD. Pages xi + 144. Rs 175.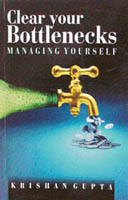 Unless you acknowledge a problem's existence you can't resolve it. This applies to us humans too. In case we fail in our enterprise, self-analysis becomes imperative. But, how to go about it? Gupta gives examples from everyday living to help us understand personality traits, to become adept at time management and generally acquire a good idea of how to overcome obstacles in our path to goal-achievement. Read it, enjoy it and reflect on it.
Call for a literary wave
Haryana litterateur Satya Pal Gupta, who recently received the degree of Sahitya Mahopadhaya from All-India Hindi Sahitya Sammelan, Prayag (Allahabad), says that the policies of the government are not conducive to creating a dynamic literary climate in the state. He feels that a literary wave needs to be started and encoura0ged so that writers living in the state gain recognition. Now, litterateurs are promoting their own cause themselves instead of the cause of literature in Haryana.




S.P. Gupta
Dismissing the clich`E9 that there is no literature in Haryana, Gupta says, "Haryana has had a long tradition of literary creativity. Most people would not know that Birbal, the prized wit in the court of Mughal Emperor Akbar was a Haryanavi hailing from Narnaul. Besides we have had well-known writers like Balmukand Gupt, Chandra Bardai, Prithvi Raj Baso and Bhai Santokh Singh."
Former chairman of the Haryana Sahitya Akademi, Gupta says that much needs to be done to revitalise the state literary akademis so that these can play a meaningful role in promoting literature and litterateurs. "It is sad indeed that the chairman of the Sahitya Akademi should be the Chief Minister. The posts within these akademis should go to writers and scholars who can play an active role," he says. He also regrets the fact that within the state there are separate akademis for the promotion of Hindi, Sanskrit, Urdu, Punjabi and Haryanavi. In his opinion these should be under one parent body so that expense on administration and staff can be saved and devoted to the promotion of the languages.
Building bridges and connections among the different languages spoken in the state has been a lifelong passion with Gupta. He has done significant research in Hindi literature of Punjab written in Gurmukhi. His notable prose works include Gurmukhi Lipi Mein Hindi Sahitya and Punjab ka Hindi Sahitya and Haryana Mein Rachit Hindi Sahitya. "At present I am involved in transcribing into Devanagri some of the Braj Bhasha writings that are in Gurmukhi script. But this is a monumental task and some institution should come forward and undertake it," he says. — N.D.
Misfortunes retold
Silent Echoes: A True Story
by Amita Malhotra, New Dawn Press. Pages 183. Rs 200
Aditya Sharma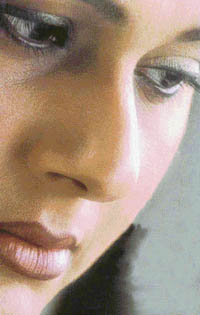 This book reads like the confessions in one's personal diary. The story relates the harrowing experiences of an Indian girl married into a money-minded family settled in England. The girl is constantly tortured for not bringing enough dowry by her husband and in-laws. The situation worsens when it is detected that she has cancer. There is no emotional or financial support from her husband as she puts up a brave fight against the dreaded disease in the hospital. Finally, undergoing chemotherapy, she manages to regain her health. However unable to stand her husband's indifference any longer, she separates from him. Fortunately, she has a rich and considerate brother to look after her and her son in England.
But this is not the end to her misfortunes as she undergoes one physical ailment after another. Taking all the suffering in her stride, she decides to make herself financially independent and dabbles in various courses at universities in England. However, her ailments get the better of her, and she is forced to quit studies.
In the 'conclusion', the author acknowledges that the story is a true account of Prerna — a woman whom she met in England. But the intensity of emotions and the usage of first person suggest that the story relates to none other than the author herself. So intensely is she moved by Prerna's sufferings that it seems as if she herself went through them.
The prose of the novel is simple and the reader almost sails through it. The volume may not be to everyone's liking but it could impart comfort to those facing similar tribulations in life.