I love my India
Patriotic songs continue to weave their magic and make the listeners emotional even decades after they are written. Surendra Miglani on how we love lyrics that celebrate nationalism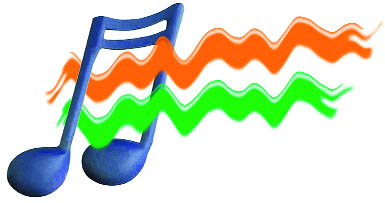 Ai mere pyare watan, ai mere bichhde chaman, tujh pe dil qurbaan; tu hi meri aarzoo, tu hi meri aabroo, tu hi meri jaan. This beautiful number, expressing the feelings of a person towards his motherland while living away from her has fascinated one since one's schooldays.
The sentiments expressed in Tere daaman se jo aayen un hawaaon ko salaam, choom loon main us zubaan ko jis pe aaye tera naam, sabse pyari subah teri sabse rangeen teri shaam, tujh pe dil qurbaan`85 are indeed soul-stirring. If a person living in his own country is so moved by this number, what would be the feelings of one who has been away from his motherland for a long time? One thought it would always remain a guess for one.
In a special programme screened by Zee of Antakshri in the UK, the anchor, Annu Kapoor, chose the aforementioned song for the purpose. While Annu was singing, the camera focused on the faces of NRIs living in that country for a long time. There was hardly a dry eye in the studio. The emotional appeal of the song and the audience's reaction overwhelmed the anchor so much that tears welled up in his eyes too and because his voice was so choked with emotions that he left the song mid-way.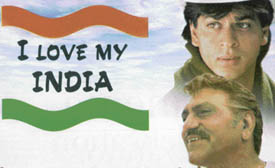 The lyricist Prem Dhawan, in a TV interview beamed sometime before his death, revealed that in the mid-1950s, he was in the USSR in connection with the shooting of an Indo-USSR co-production, Pardesi, for which he was penning the lyrics alongwith Sardar Jafri. His prolonged stay in that country would make him miss India too often. "One day when such feelings for my motherland became quite intense, I decided to put them on paper," he reminisced. That is how one of the greatest patriotic songs of all times came into existence. Dhawan kept the number with himself for five years until Bimal Roy roped him in to write the songs for Kabuliwala. When Dhawan showed him the song which he had written in the USSR, the legendary filmmaker instantly fell for it and specially created a situation to incorporate it. Manoj Kumar was so impressed with the Kabuliwala number that when he decided to make Shaheed (though officially Kewal P.Kashyap was its producer) on the life of martyr Bhagat Singh, he signed Dhawan as its lyricist and music director. By creating gems like Mera rang de basanti chola`85and Ai watan ai watan humko teri kasam`85, Dhawan definitely justified the faith Manoj had reposed in him.
It goes to the credit of the denizens of Bollywood that they have regularly come out with numbers which have not just remained a formality to be sung at Independence Day and Republic Day functions. Several of such numbers touched new heights of popularity.
At the end of her live show, Lata Mangeshkar was saying a few concluding lines. An old man among the spectators was constantly waving his hands and making a request which was not audible to the singer. Someone from among the organisers went to the old man and let Lata know what he was trying to say. The old man said Lata's show would not be complete unless she sang Ai mere watan ke logo, zara aankh mein bhar lo paani.
Several years earlier, Lata had rendered the same song live before an audience comprising, among others, the then Prime Minister Jawaharlal Nehru, and it had brought tears to his eyes. Similarly, when Mohammed Rafi sang a patriotic song on the life of Mahatma Gandhi on the occasion of India's first Republic Day function, Suno suno ai duniya waalo Bapu ki ye amar kahani`85 it had moved Nehru to tears.
The magic that patriotic songs can weave was witnessed even in Subhash Ghai's Pardes (1997). Its number Ye duniya ik dulhan, dulhan ke maathe ki bindiya, Ye mera India `85 I love my India topped the popularity charts. It became a fad among car and two-wheeler owners to have the stickers of the blurb I love my India pasted on their vehicles. In fact, the fad has really not faded much even eight years after the film's release as one can see these stickers even now.
One of Ghai's earlier films, Karma (1986) too had a patriotic number Dil diya hai jaan bhi denge ai watan tere liye`85 which became extremely popular. Interestingly, the movie had another version of the same song where patriotism was replaced with romance (Dil diya hai jaan bhi denge ai sanam tere liye`85) but it paled into inignificance in comparison to its patriotic counterpart.