'I'm not like Savita'
Shveta Pathak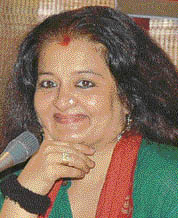 Apara Mehta: Theatre is life
FOR Apara Mehta, better known as Savita Virani, Tulsi's saas in Kyonki Saas Bhi Kabhi Bahu Thi, all roads lead to one destination, that is theatre. The dancer-turned-actress, who has been associated with theatre for the last over 24 years, has tasted success in theatre, television and even films. She is proud of the fact that in the last 24 years, she did 48 plays and no play did less than 200 shows in six months. Apara, recently in Ludhiana for her play Kuchh Tum Kaho Kuchh Hum Kahein, spoke about her plans. Excerpts:
Of theatre, television, singing and politics, what excites you the most?
It certainly is theatre, which I find fulfilling. My shooting schedules today leave me with very little time, but at the end of the day, it is theatre which helps me to unwind It is my aim to make theatre reach a stage where its actors and technicians flourish. Be it the popularity I have got through television or a voice through politics, I want to utilise these for popularising theatre only.
Ekta Kapoor is condemned for the image of women she portrays in her serials.
I completely disagree with this. She has not just given leading roles to women, something that films failed to give, the image of a woman she portrays is also of a decision maker, someone who has her own mind. She has also provided high quality and technically advanced products. One cannot ignore the employment opportunities she has created.
How much do you identify with Savita, the saas of Kyunki..?
The character has many shades though I would, never in real life, want to be one like Savita. Television, like films, is another mode of entertainment. When you watch a film, you never raise queries on its relation with real life situations, then why this bias for TV serials? The aim of TV actors, like any other form of art, is to entertain people.
Is there a difference in Gujarati and Hindi theatre?
A lot. Gujarati, or for that matter, Marathi theatre, have no dearth of viewers. They provide an income to actors that can help support families, which Hindi theatre has, so far, not been really able to do. I personally want Hindi theatre to reach those heights, where it is available to masses. Not only the so-called elite should watch my theatre. One has to understand that theatre is an art form, which can play a key role in promoting culture, which is why the common man too must watch it.