Television
Mix of old and new
Randeep Wadehra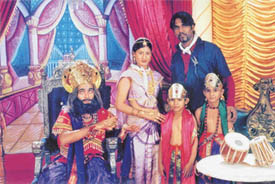 Watch out for Nautanki
INDIA has a rich tradition of nautanki – a fusion of song, dance and drama played out in the open, inside a huge tent or in the local zamindar's courtyard – depending upon the occasion. Its contents could be folklore, a contemporary farce or just pure fun and dance. Taking inspiration from this rich tradition, the ETC Hindi channel has come up with Nautanki Top 9 – not top 10, mind you. It's telecast at 8 PM every Friday. The viewers decide top 9 songs of the week through SMS messages. Akruti and Suresh Menon then present these songs. A desi ensemble of musicians and a host of mythological characters give a show a distinct nautanki ambience. The setting is a tent-with-silk-drapes and oak furniture with lots of props in the form of white pillars, chandeliers, framed images and`85 a buffalo! Yes, it's Yamraj's mount, and the God of Death has come to take away the soul of the Veejay, but forgets it all while listening to fusion music.


Exotic tourist trails



Travel with Simon Reeve to thrilling locales
Apart from people, governments, land and sea have you ever thought what goes to make a country? It is the recognition by other states that ensures the identity of a nation.
Most of us know there are around 200 official countries in the world. But how many know that there are dozens more breakaway states which have their own rulers or warlords, presidents and even parliaments. These countries may not be recognised, but they do exist and are home to millions of people.
Places like Somaliland, Transniestria, South Ossetia, Abkhazia, Ajaria and Nagorno-Karabkh have declared independence after violent struggles. Some survive peacefully, others are magnets for terrorists and weapons' smuggling. All could be at the centre of future wars, which threaten their regions and the wider world.
In Holidays in the Danger Zone: Places That Don't Exist every Saturday at 8 p.m. BBC World show host Simon Reeve takes you on thrilling journeys to these exotic lands that never feature on the tourist trail and live in a world of their own.
Lost magic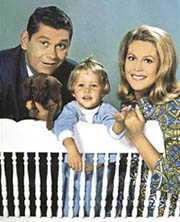 Bewitched fails to charm viewers
In an era that has pronounced Harry Potter as the greatest sorcerer in the world, Hallmark is banking on Bewitched the archaic series to gain more TRPs. The show that airs every Monday at 3:30 p.m. centres around a young couple the femme half of whom just happens to be a witch.
Elizabeth Montgomery stars as Samantha Stephens, a witch married to an ordinary man and very much in love with her home and family. However her mother, Endora, a witch of the old school of thought simply can't understand what her daughter sees in her human husband and wants her to return to her witching ways.
The ancient magic of Bewitched fails to enchant in the days of Wizards and Hobbits.



Impact of Sarrkkar
If you thought it was an Aandhi remake, perish the thought. Sarrkkar on Zee TV maybe a gripping family drama set against a political milieu but it misses the 1970s Gulzar epic by a distance.
The serial loosely on the life of India's former Prime Minister Indira Gandhi has some fine performances. But most insiders say that had the serial makers stuck to the original star cast it may have notched up even higher ratings.
The initial ensemble comprised Neena Gupta, Nikki Aneja and Shweta Kwatra. Though it may have been more popular with this trio but no one can deny that Divya Seth in the lead role is doing a commendable job.
What is missing perhaps is a powerful script. And in the absence of that no star cast can be of any great help. Whatever the reason, one thing is certain, director Manish Goswami has missed out on the opportunity to make an explosive political saga. What we have here is just passable stuff.
— NF