Back of the book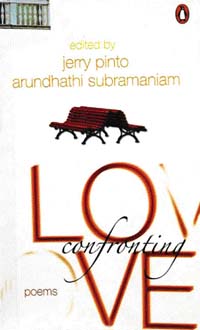 Confronting love: Poems.
Ed by Jerry Pinto & Arundhati Subramaniam. Penguin.
Pages 84. Rs 125.
HERE you have 46 Indian poets on love. They include A.K. Ramanujan, Kamala Das, Vikram Seth, Dilip Chitre, Jayanta Mahapatra, Ruskin Bond and Dom Moraes. "And even now/when...." years have passed/love has nothing to say...writes Vinay Dharwadker in his poem waking included in this anthology. Nevertheless, poets continue to address the issue of love, looking for novel and original ways to beat cliches. In Confronting Love, Indian poets writing in English try to make sense of this emotion.
From the spiritual to the corporeal, from the whimsical to the brooding, these poems convey the myriad nuances of love. There is pathos here and ecstasy, obsession and resignation. There is, as the editors say, "the being-in-love poem, the being out-of-love poem, and the regular tumbling-headlong-into-it poem' as veterans and young talents alike seek to strike a balance between craft and feelings in dealing with the favourite theme of poets all over the world — love.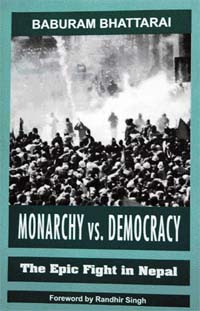 Monarchy vs. Democracy: The Epic fight in Nepal
by Baburam Bhattarai. Samkaleen Teesri Duniya. Pages 179. Rs 250.
The democratic movement of the Nepalese people against absolute monarchy, going on for more than half a century, is now heading towards a climax. The book deals with the period after the infamous palace massacre of June 2001. The chain of events since then viz. declaration of national emergency and deployment of royal army since November 2001, dissolution of parliament in May 2002, dismissal of the elected Prime Minister and assumption of executive powers by the King in October 2002 which culminated in the imposition of absolute monarchy on February 1, 2005, amply testifies the intentions of the monarchy. The main demand of Maoists, today, is that a Constituent Assembly should be elected for the new constitution.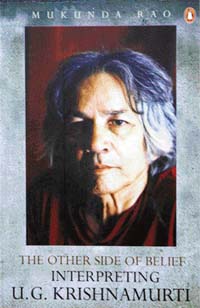 The Other Side of Belief: Interpreting U.G. Krishnamurti
by Mukunda Rao. Penguin. Pages 350. Rs 350.
The book is a candid and refreshing chronicle of UG's life and the evolution of his radical outlook and ideas. Tracing the development of UG's notion of enlightenment as a series of biological mutations devoid of mystical or religious connotations, Mukunda Rao weaves a complex portrait — of a man who doesn't hesitate to challenge and demolish society's most cherished and comforting values and ideals, but nonetheless commands veneration from multitudes of admirers.
With a foreword by Mahesh Bhatt, film-maker and lifelong admirer of UG, the book offers a searching exploration of the incredible charisma of a man who has transformed the lives of people all over the world.