Vintage shots from the past
Vikramdeep Johal
Test of Time: Travels in Search of a Cricketing Legend
by John Lazenby. John Murray, London. Pages 242. £ 8.15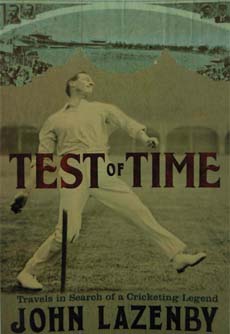 Little-known all-rounder Jack Mason played only five Test matches for England, all of them on the tour to Australia in 1897-98. He scored just 129 runs at a poor average of 12.9 and took two wickets at 74.5 runs apiece. Do these figures befit a cricket legend? No, they donít, but it is said that statistics tell only half the story. In this case, they are even misleading.
Freelance journalist John Lazenby sets out to tell the real story of the cricketer, who was his grandfather. What could have easily become a hagiography written by an adoring grandson turns out to be a fascinating glimpse into the Golden Age of cricket. This was the era from the 1890s to the outbreak of World War I, when cricket was in the bloom of youth, when amateur batsmen delighted spectators with their devil-may-care attitude, a luxury the wage-conscious professionals couldnít afford.
For the better part of this period, Mason was regarded as one of Englandís finest all-rounders. He was a star performer for Kent, guiding the county to their first championship win in 1906. The England teamís captaincy was once offered covertly to him, but he refused. Mason loved cricket, but like most Golden Age amateurs ó they were called gentlemen, while the pros were simply known as players ó it was nothing more than a game for him. With the future in mind, he chose to pursue the family business and became a respected solicitor.
Surprisingly, despite being the cricketerís grandson, Lazenby came to know all these things only after he started working on this book. Masonís hallmark was his humility ó he neither trumpeted his achievements nor came up with excuses for his failures. He even deprived his family members of some engrossing cricket tales.
It is the discovery of his grandfatherís letters in a shoebox that fuels the writerís curiosity and inspires him to retrace Masonís footsteps. "I didnít know what I would find," he writes, "if anything at all, or what would be left from those far-flung days that was not now buried beneath concrete, but that in itself would be part of the adventure." Lazenbyís journey takes him to various places in Australia, from the metropolises of Sydney and Melbourne to the provincial goldfield cities of Bendigo and Ballarat, all toured by the 1897-98 England team led by Andrew Stoddart. The past and the present of these cities is so lovingly described that you feel the urge to pack your bags and head Down Under.
The writer has a wonderful eye for detail (and irony). He finds uncanny similarities between the goings-on in the Golden Age and in todayís cricket. Controversial umpiring decisions, suspect bowling actions, war of words between rivals, even match-fixing allegations ó believe it or not, it was all there over a century ago. (An Australian cricketerís refusal to play due to a dispute over match fees brings to mind the recent contract row involving Brian Lara and other West Indians).
The novelistic narrative shuttles between the progress of the England teamís ill-fated tour ó they lost the five-match series 1-4 ó and the writerís own travels in "search of a cricketing legend". The hapless Englishmen not only had to contend with a formidable Australian team, but also with factors like the oppressive heat, bushfire smoke, hectic travelling and their captainís bad, bad luck with the toss.
Several Golden Age heroes come alive in the bookís pages, such as Archie MacLaren, Andrew Stoddart and above all Kumar Shri Ranjitsinhji. The latter, popularly known as Ranji, was a big hit in Australia for his magical batting ó the wristy leg glance was his "masterstroke". Battling ailments from asthma to quinsy, Ranji accumulated 457 runs in the series, including a majestic 175 in the first Test at Sydney, the only one that England won.
The Indian prince even did an advertisement for a South Australian brush company, holding a broom like a bat, with the slogan reading "Ranji ó Prince of Brooms". (The legendary batsman couldnít have imagined that a century later, brand promotion by cricketers would reach epidemic proportions).
Ranjiís outspokenness, however, brought him brickbats from the Australian public and the media, particularly when he doubted the bowling action of an Aussie player. On the whole he had a bittersweet tour, even as it was thoroughly joyful for top batsman Archie MacLaren, culminating with his marriage to an influential Australianís daughter.
Throughout the lively account of the tour, the writer doesnít lose track of his grandfatherís mixed fortunes. Though Mason failed to live up to everybodyís expectations, the amiable cricketer occasionally showed a spark of brilliance, enough to make him a Golden Age figure worthy of being saved from oblivion.