hindi Review
He wished to be guided by faith alone
Harbans Singh
Kalptaru ki Utsavaleela: Ramkrishna Paramhansa.
by Krishna Bihari Mishra. Bharatiya Jananpith. Pages 596. Rs 380.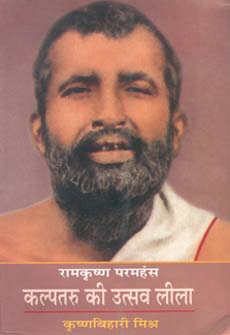 Krishna Bihari Mishra has written a remarkable biography of a person who is not only the symbol of spiritual renaissance of modern India but also a person who was a genuine teacher. He influenced and moulded his disciples not as what he wanted them to be but as what they themselves could become, given their traits and potential. Thus among his disciples were the scholarly Swami Vivekananda as well as the illiterate attendant Latu and the mercurial but creative Girish Chandra Ghosh. Each was different from the other yet they all attained a rare spiritual experience in the company of the master.
Mishra has combined scholarly research with an easy flow of narration. The interest in the life of this spiritual being builds up in the first chapter itself. Leading Brahmo Samajis of the time sought his company, as did troubled cynics and sceptics. He had something to offer to everyone.
He sought the company of genuine seekers of truth and practitioners of human values. Thus he thought that a visit to the house of social reformer Ishwar Chandra Vidyasagar and the pleasure of having his company was nothing short of the bounties of a pilgrimage. He was impatient, too, and was hardly prepared to suffer those who were not keen on imbibing fine values and acknowledging filial duty. For him the study of the Vedas was useless if a person was not civilised and humane.
Ramkrishna Paramhansa, like many a saint before him, considered logic an obstacle in the path of realisation of truth. He wished that he should be guided by faith alone. But like a truly evolved human being, he redrew the parameters of religious conduct. In the process, he enlarged the sphere of Hinduism so that a larger number of people could be included in its fold. He did not have much formal education yet his benign influence redeemed many.
The author does not hide the fact that the book has been written by an ardent follower. He also writes about some of his important disciples. One cannot help but be swayed by a person who inspired millions to serve mankind.