BRIDGE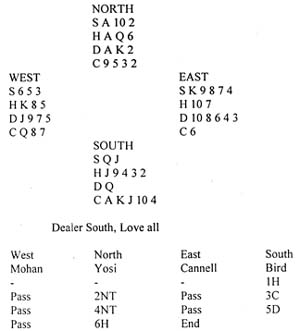 I recently played in an exhibition match on the Internet bridge system, Ďe-bridgemaster.comí. Marc Smith, my intended partner, had a broken modem on his computer and I was therefore facing world-class opposition with an unknown Israeli as my partner! Shall we play Standrad American Yellow Card? he tapped in. I agreed, although my knowledge of this system is hazy. On the first deal he responded 2NT to my 1H opening bid. I had no idea whether this showed 11-12 points, as in Acol, or perhaps 13-15 points as in some American systems. Some players use the Baron 2NT response, showing 16 points upwards. Others employ 2 NT as a forcing raise in the openerís suit. I marked time by biddihg 3C and was relieved to see my partner bid Blackwood, then raise to a heart slam. With a certain loser in clubs, as you see, 11 depended on picking up the trump suit without loss. After a trump to the queen, the necessary play as the cards lie is to lead the jack on the second round of trumps. I did manage to make the slam (he said proudly). True, I was given some assistance by a trump lead!
Northís 2H is a Weak Two, showing six hearts and 5-9 points. Partnerís double is for take-out.

What will you bid now?
Answer
Whenever partner makes a take-out double, you have two duties. You must choose a trump suit (or no-trumps) You must also indicate your strength, so partner can judge whether game is possible. With around 0-7 points you respond at the minimum level. With around 8-10 points, you respond with a jump bid. The same applies against a Weak Two. Here you should suggest a spade game by responding 3S.
Awards: 3H-10, 3NT-6, 3S-4, 4D-3, Pass-2.