Here old adds zing to new
Eco-friendly Petersborough is a historian's delight. There is something for everyone in this fun and happening place, finds out Shona Adhikari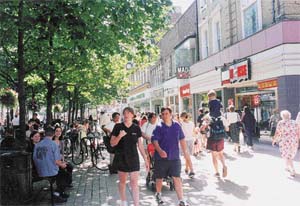 Tourists throng the boulevards at Petersborough
Petersborough, 40 miles north of Cambridge and 45 minutes by train from London's King's Cross, is home to a rich and diverse range of attractions with something to suit everyone's interests. For historians, the city has a colourful heritage and a visit to the Norman Cathedral of St. Peter in the City Centre unveils much of this. Peterborough Museum provides a wealth of information about the city's past and uncovers life dating back to the days of Cromwell. A friend who lives in Peterborough and whom I had not met for a number of years, gave me an opportunity of seeing this utterly charming city — where heritage and modernity co-exist comfortably.
The famous Peterborough Cathedral, a Norman building dating back to 1116, took 120 years to build. King Henry VIII's first wife, Katharine of Aragon, who he divorced and who lived and died here, lies buried here in a simple grave. 'Katharine Queen of England' is inscribed in golden letters. The present Queen arranged for the standard of King Henry VIII over her tomb and a special railing around the grave and the inscription in gold.
Petersborough Cathedral is an enormous structure and we spent more than an hour admiring the plaques, the splendid stained glass windows and a sundial that told the time perfectly. An extensive programme of conservation has been underway and a new visitor centre has been created where one can learn about the history of the place as well as taste a variety of home-made dishes on the patio at the restaurant. The ancient arches of the Abbey, lead out to the tree-lined boulevards.
I discovered that like so many other cities in UK, Petersborough was fully geared for holiday-makers through the summer months. Shopping malls have been created around the boulevards. Petersborough has solved the problem of keeping the heart of all the activity eco-friendly, by banning all cars from the City Centre. There are five multi-storeyed and seven other car parks, all within a short walk of the City Centre.
Shops line the two sides of the boulevards. Among the more important brands that I saw were Boots, Dorothy Perkins and Burtons Menswear. Along the centre of the tree-lined boulevards are open-air restaurants with wrought-iron chairs and tables arranged casually. Serving a wide variety of food, shoppers can just walk across when they are tired and renew their energies with a coffee and sandwich, or a slice of cake. Many just sit down to rest and no one seems bothered that they are not ordering anything. There are plenty of chairs and benches with a relaxed style of presentation.
According to my friend, shopping in Peterborough has been transformed over the past two decades. The city now proudly boasts a number of fancy malls. Located close to the Cathedral, is the Queensgate Centre — offering shoppers a choice from close to a hundred shops set along spacious clean malls and ornate water fountains all under one roof. Compared to the very modern Dubai Shopping Malls, Queensgate is certainly more aesthetically charming.
Some of UK's leading retailers have opened their doors onto the tree-lined boulevards, which also lead the way to the city's other shopping centres, Rivergate and Hereward Cross. Rivergate is styled in an Edwardian fashion and offers a range of products from musical instruments to hair fashion to some delightful pine furniture.
Peterborough blends its old shops with its new and a number of arcades link the two. It is quite common to see traditional family-run shops rubbing shoulders with independent clothes boutiques and hi-tech stores, which offer the very latest shopping innovations. Shops are open on Sundays and late nights on Thursdays.
Knowing my interest in antiques my friend suggested we visit the Fitzwilliam Antiques Centre owned by the Stafford family, located a short distance from Queensgate. The building has an interesting history with the site having been in the family since 1900. The ground floor, once a smithy and cobbled inner courtyard, now provides a spacious showroom, with a range of furniture ranging from Georgian to Deco in Mahogany Oak, Walnut and Pine. There is an eclectic mixture of collectibles, books, silver coins, linen coins, porcelain medals and more. Having spent an enjoyable time at a place that was really after my heart, it was time for lunch.
My friend's two young nephews joined us for lunch and we ate at a place called Clowns! This innovative chain of restaurants, with two other branches at Essex and Suffolk is essentially for the young, but attracts adults with its excellent food. The restaurant, now charges a 2 pound cover charge for 2 adults eating by themselves. There were children on every table and everyone seemed to be having a good time. In keeping with its name, Clowns ensures that no opportunity is missed out in showing a visual representation of a clown-on the walls, the menus, crockery and waiters in bright coloured uniforms.
We had a splendid lunch, finishing off the meal with some rich chocolate cake and ice cream. The noise level was certainly a bit high, but it was an experience that I wouldn't have missed the lunch at 'Clowns' for the world and recommend it for families visiting Petersborough.
While we were lunching, the sun had disappeared behind clouds and a few drops had begun to fall and it was time to return to Cambridge.