Television
Magic in her gaze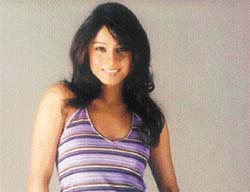 Life's on a roll for Samita Bangargi
THOUGH she's been around doing TV commercials for upmarket products like Clinic All Clear, Close Up, Lux and Fair & Lovely, what's got her really noticed is her music video, Jadoo Teri Nazar.
Ever since then life has not been the same and the video has transformed for Samita Bangargi from an innocent schoolgirl to a hot, sizzling babe.
The vivacious model who debuted in Bollywood with Yeh Kya Ho Raha Hai and then went on to do the lead role in Shaadi Ka Ladoo in which she co-starred with her fianc`E9e, the up and coming Ashish Choudhury. Next she'll be seen with Madhvan in Ramji Londonwale a remake of a hit South Indian film Naladamyanti.
Samita's been flooded with TV offers after Jadoo Teri Nazar. But she's declining them all. "For me the real challenge is films though I'd love to do more music videos like Jadoo Teri Nazar.." Till that time, Samita would rather let her nazar do the jadoo in Bollywood.
Unmasking superheroes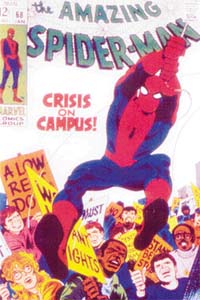 Comic book heroes have a cult following
IF Spiderman, Superman, Batman, X Men and The Hulk are superheroes, imagine what hotshots their makers would be. Get ready to meet the bigwigs who created these legendary daredevils on the History Channel on August 21 at 8 p.m.
The two-hour documentary takes a serious look at comic books and superheroes from the 1930s to the 21st century. It tracks the incredible growth in popularity and investigates how comics have changed over the years.
From the creation of Superman by a couple of young men in Cleveland, the show follows the most representative characters as well as the industry that made it possible for them to adapt to radio, television, cutting edge video games and blockbuster movies over the decades.
Meet the writers and artists who created these superheroes and learn how they mirrored society and wove the history of the times into the greatest stories of heroism and courage.
This deal's a steal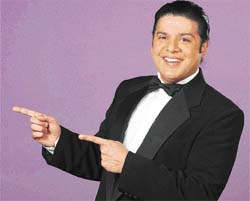 Sajid Khan on Super Sale: Bargains galore
IT'S the season of giving at Star. After making crorepatis out of ordinary viewers, the channel is now persuading people to buy household stuff at prices that are dropping like Newton's Apple.
Super Sale hosted by Sajid Khan and aired Monday to Friday 7:30 p.m. on Star One, will feature three contestants who will go through the mandatory buzzer rounds. They will start with Rs. 20 and every correctly answered question will win them an additional Rs. 5.
Sajid will keep tempting contestants into spending their winnings at the Super Sale Gift Shop that will offer furniture, holidays and household goods at Kisi aur zamane ke daam (with apologies to McDonald's). Wannabe participants will not just be required to brush up their general knowledge but should also have a quick wit about them. After all they'd be up against Sajid Khan—the biggest lip on the small picture tube. — NF