AUDIO SCAN
Tell Me That You Want Me
(Times Music)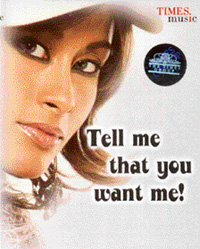 Very few singers have the courage to cut a disc of original songs. They tend to take recourse to remix songs every now and then, completely forgetting that imitation cannot take them far.
Aiysha, the singer of this album, is also smitten by this uncertainty. There was no reason for her to have this problem, because she happens to be blessed with a fairly polished voice. But she has packed half of the cassette with cover versions. The jacket cover tells us that Aiysha is a qualified accountant and financial planner from one of the largest financial firms of Australia called AMP. She trained as a singer from childhood and can sing in various genres such as semi-classical, ghazals, pop, Punjabi and western music. This album marks her debut in India.
Punjabi, Hindi and English lyrics, which fight for space in the album, are laced with global beats and international spunk.
Aiysha is very ordinary in remix songs like Duniya mein logon ko…, Yeh mera dil pyar ka deewana and Mohabbat kar lo…. But she is a different singer in original songs like Mundya, Tauba meri tauba and Chalo chalo. Her lively singing style is supported well by the funky beats.
Some of the songs have also been written and composed by Aiysha. The recording done in Australia is of excellent quality. Other composers include Daniel Allan and Jaidev Kumar.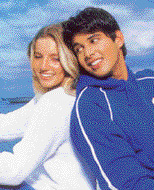 Dil Jo Bhi Kahey (Tips)
Small-time actor Romesh Sharma has now turned writer-producer-director with this launch vehicle for his son Karan Sharma. He seems to have an ear for music too and Shankar Ehsaan Loy have done a professional job for him. Their music has a freshness about it. They have given a chance to some new singers like Javed Ali, Prashant, Shefali and Caralisa. Besides, there are faithfuls like Shaan, Sonu Nigam (his Kitni narmi se… is well executed), Shreya Ghoshal and Shankar Mahadevan himself. Sudesh Bhosle apes Amitabh's voice so well that at times it feels that it is Bachchan himself.
Javed Akhtar's lyrics are as graceful as ever. — ASC