Pulling out of the past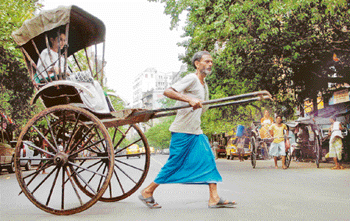 This Independence Day marked the dawn of freedom from indignity for the rickshaw-pullers in Kolkata. Attempts to pack off the hand-pulled rickshaw had failed on earlier occasions but this time the West Bengal Government is determined to see the ban through.
Subhrangshu Gupta looks at 'human horses' that ferry people and wonders if it will be a final goodbye to the hand-pulled rickshaw.
The hand-pulled rickshaw is to disappear from the streets of Kolkata, the last big Indian city to still have spindly-legged, rag-clad men straining to earn a few paisas a day carrying passengers.
Here conservation is a way of life
Parbina Rashid recounts her visit to the Kaziranga National Park which is celebrating its centenary year
As we drove along the narrow, water-logged road of the Kohora range of Kaziranga National Park in Assam, little did we know that we would soon be face to face with the famous one-horned rhino.
Monumental faith
Shirish Joshi on Adhai Din Ka Jhompra, which is believed to have been built in two and a half days
The 15-centuries-old city of Ajmer in Rajasthan reminds most people only of the famous dargah of the Sufi saint, Khwaja Moinuddin Chisti, which attracts lakhs of devotees from all over the world.
Stumped on screen
The combination of cricket and cinema has often failed to make an impact on the Indian audience, writes Vikramdeep Johal
Cricket and cinema are two passions that ignite and unite Indians. Both are about big bucks and big-time fame. Their combination ought to be unbeatable. Look at those celebrity couples — Tiger Pataudi and Sharmila Tagore, and Mohammad Azharuddin and Sangeeta Bijlani.
A man among boys
Post-Sarkar, Kay Kay Menon, one of Bollywood's finest actors, is finally on a roll, writes Saibal Chatterjee
Kay Kay Menon does not possess the airs of an overnight star. But that personality trait has nothing to do with the fact that the one-time theatre actor's climb up the Bollywood ladder has been somewhat slow and arduous.