Stumped on screen
The combination of cricket and cinema has often failed to make an impact on the Indian audience, writes Vikramdeep Johal
Cricket and cinema are two passions that ignite and unite Indians. Both are about big bucks and big-time fame. Their combination ought to be unbeatable. Look at those celebrity couples — Tiger Pataudi and Sharmila Tagore, and Mohammad Azharuddin and Sangeeta Bijlani. However, that is the off-screen (or off-field) story. On screen, our unofficial national sport has rarely caused a sensation. For most Bollywood film-makers, movies and cricket are like drinking and driving — not to be mixed.



Shreyas and Naseeruddin Shah in Nagesh Kukunoor's latest release Iqbal

Ashutosh Gowariker took a big gamble when he made the path-breaking Lagaan (2001), the story of a village's resistance to colonial oppression. The villagers, led by Aamir Khan, fought not with swords and spears but with bat and ball, beating the British at their own game. The all-important match lasted for virtually half the film's duration, yet it kept viewers spellbound.
Lagaan's commercial and critical success — it was nominated for an Oscar — was expected to set a trend of movies about cricket, but that did not happen. The subject is still considered a box-office risk. After all, why would people root for fictional cricket heroes when they have real ones?
Undeterred by this "pitch report", Hyderabad Blues director Nagesh Kukunoor has taken up the challenge of entertaining audiences with a cricket story. Iqbal, his latest release, is about a deaf-mute village boy who dreams of playing in the Indian team. For the title role, the film-maker wanted a boy who could both act and bowl well. After an extensive search, he picked Shreyas Talpade, a Marathi TV actor.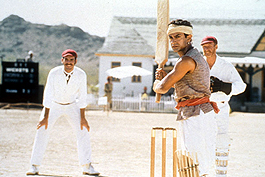 In Ashutosh Gowariker's Lagaan, Bhuvan and his friends defeat the British at their game

Veterans Girish Karnad and Naseeruddin Shah play the boy's coaches. "Indian cricketer of the century" Kapil Dev makes a special appearance in this Subhash Ghai production. In the movie, Iqbal copies Kapil's bowling action while his mother is shown as a big fan of the champion all-rounder.
The director is well aware that barring Lagaan, no cricket film has made an impact. Kumar Gaurav starrer All-rounder (1984) and Dev Anand's Awwal Number (1990), with Aamir Khan as the lead, were mediocre films which fell totally flat.
Even then, Kukunoor is confident that this "triumph of the spirit" story would strike a chord with the viewers. Two post-Lagaan films that failed to click were Stumped (2003) and Silence Please... The Dressing Room (2004). Both promised much but delivered little.
Stumped was set against the backdrop of the Kargil conflict and the World Cup in England. Raveena Tandon played the wife of a soldier who goes missing in action. Her anxiety and depression isolate her from her cricket-crazy neighbours, who remain blissfully oblivious of the ongoing war. The movie is a satire on the passion, rather obsession, of Indians for the game, and showed how it could make them indifferent to unpleasant realities. The film was released on the eve of the 2003 World Cup, and several cricketers took part in a promotional campaign. Despite these efforts, Stumped lived up to its name and sank without a trace.
Silence Please...The Dressing Room (2004) made a futile attempt to bring together cricket and terrorism. It revolved around an India-Pakistan goodwill match, which terrorists threaten to disrupt by blowing up the stadium in Srinagar. This purported thriller also had dressing room intrigue, with the Indian captain and the coach being suspected of match fixing by other team members.
The release of the film was well-timed to coincide with India's historic tour to Pakistan last year, but the audiences preferred to watch the real matches instead of the reel one.
It seems that cinemagoers enjoy cricket in small doses, when it comes as a surprise element. Dev Anand-Mala Sinha starrer Love Marriage had a delightful number penned by Hasrat Jaipuri and sung by Mohammed Rafi. It went like this: "She ne khela he se aaj cricket match/Ek nazar mein dil bechara ho gaya lbw". In Chamatkar, an invisible Naseeruddin Shah single-handedly won a match for Shah Rukh Khan's team.
Even in full-fledged cricket films, the game hasn't always been the only theme. It was the freedom struggle in Lagaan, terrorism in Silence Please... and war in Stumped. In Iqbal, it is victory over disability.
Box-office history may not be on Kukunoor's side, but going against the tide is nothing new for this leading light of crossover cinema. He is not unlike Iqbal, the underdog who aspires to reach the top. Hopefully, his film would inspire viewers and at the same time make them fall in love with their favourite game all over again.
******
Cricketers love to stay in the limelight. So it isn't surprising if they try their luck in films, especially when their sporting career is finished or is on the wane. However, cinema has proved to be a much harder ball game for them.
Salim Durrani, the flamboyant all-rounder with movie-star looks, acted with Parveen Babi in B.R. Ishara's Charitra (1973), while Little Master Sunil Gavaskar did Savli Premachi and Zakol in Marathi.
Sandeep Patil starred opposite Poonam Dhillon in Kabhi Ajnabi The (1985), in which the villain's role was played by none other than wicketkeeper Syed Kirmani. (Even West Indies skipper Clive Lloyd had a small role in the film). In contrast to their heroics in the 1983 World Cup, Patil and Kirmani were clean bowled on the big screen.
More recently, players Ajay Jadeja, Vinod Kambli and Salil Ankola have been bitten by the acting bug. Jadeja got cosy with Celina Jaitley in Khel; Kambli was seen in Annarth and Bade Dilwala; and Ankola, who has also done several TV serials, appeared as a Sub-Inspector in Mahesh Manjrekar's Kurukshetra and as the Indian team captain in Silence Please...the Dressing Room.
All of them have found that stardom in one field doesn't necessarily get transferred to another. Ironically, the cricketer who has done relatively well in Bollywood is not an Indian but a Pakistani — Mohsin Khan. After a successful career as an opening batsman, Mohsin crossed the border in search of celluloid fame. He married a top actress of her time, Reena Roy, and acted in a few films, notably Mahesh Bhatt's Saathi and J.P. Dutta's Batwara. Unfortunately, his film career (and marriage) ended with a whimper.
Though cricketers have not been accepted in leading or supporting roles, they have been liked in guest appearances. In Maalamal, Sunil Gavaskar helped Naseeruddin Shah suffer heavy losses in a match by making mincemeat of his bowlers. During the climax of Mujhse Shaadi Karogi, Kapil Dev, Navjot Sidhu and several members of the current Indian team, including Harbhajan Singh, appeared out of nowhere, pleading Priyanka Chopra to accept Salman Khan's proposal.
For players, the moral of the story is 'Small is beautiful' — don't make it large. Or go for the small screen, which offers a range of opportunities such as ads, commentary, talk shows etc. Better play on TV's easy pitch than on cinema's tricky wicket.