A man among boys
Post-Sarkar, Kay Kay Menon, one of Bollywoodís finest actors, is finally on a roll, writes Saibal Chatterjee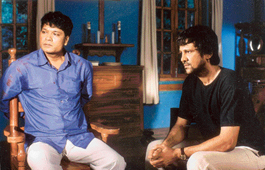 Aditya Srivastava and Kay Kay Menon in Dansh

Kay Kay Menon does not possess the airs of an overnight star. But that personality trait has nothing to do with the fact that the one-time theatre actorís climb up the Bollywood ladder has been somewhat slow and arduous. It stems instead from his personal creative priorities. Menonís focus is more on the substance in his roles rather than on the zeroes in his paycheck.
The Kerala-born, Pune-bred Menonís choice of films and set-ups bears testimony to that. His late-1990s debut film, the offbeat Bhopal Express, veered off the rails even before it could hit full speed. But that hasnít deterred the steely actor from continuing to throw his lot behind cinema of substance. Menon played pivotal roles in scriptwriter Anurag Kashyapís first two films as director, Paanch and Black Friday. While the former is still stuck in the cans for want of takers, the release of the latter is held up because of a messy legal wrangle.
"Iíve been rather unlucky," says Menon. "Bhopal Express went completely unnoticed. And I have no idea when Anuragís two films will see the light of day. An actor has no control on a filmís fate," he adds. Indeed, even his more commercially oriented films, Chhal, Deewar - Letís Bring Our Heroes Home and Silsilay, have also, sadly, been flop shows. Therefore, until the release of Ram Gopal Varmaís successful Sarkar and Sudhir Mishraís critically acclaimed Hazaaron Khwaishein Aisi earlier this year, Kay Kay Menon was just another quality Bollywood screen actor who had more films than releases to his credit.
The tide has turned. Today, after the spectacular way in which he held his own against the towering Amitabh Bachchan in Sarkar, Menon, a cricket fanatic in his free time, is on a much stronger wicket.
"I have become much more philosophical of late," says Menon. "In the past, I would get too involved with a film and feel miserable when it failed. We had all given everything to Paanch. We thought we had done groundbreaking work. I felt quite low when the filmís release got stuck. Now I complete a film and move on to the next," he adds.
His confidence in his abilities certainly isnít unfounded. From a murderous rocker in the unreleased Paanch to a sadistic Pakistani army man in the big budget dud Deewar to a philandering husband in Silsilay to an intransigent son in Sarkar, he has done justice to every role that he has essayed on screen.
"I tend to get complex roles because I have acquired the reputation of an actor who relishes challenges," he says. "But itís certainly not a conscious career move. If I get a light-hearted script with a good role for me, Iíd love to be a part of it."
While Menon asserts that he would have no problem in singing and dancing for a film, he would never be caught doing aerobics on screen. Intelligence is, after all, the hallmark of his acting career. Reminded that actors of the quality of Naseeruddin Shah, Om Puri and Pankaj Kapur have often complained of being shortchanged by the mainstream Mumbai movie machinery, he shoots backs: "Being an intelligent actor canít be such a big disadvantage. Intelligence can only help me do my job better." Menon grew up in Pune, where he lost no opportunity to indulge his passion for theatre. "I have been on stage since the age of nine," the tall, strapping actor reveals.
Armed with an MBA degree from Pune University, he moved base to Mumbai and set up a corporate filmmaking outfit. "I made lots of money but tired of the business pretty soon," he recalls. "So I plunged right back into the world of theatre and joined Naseeruddin Shahís troupe."
It goes without saying that Menon holds Naseeruddin Shah in high esteem. But he is no less impressed with Amitabh Bachchan, his Sarkar co-star. "While working with him, I could see why he is where he is. Amitabh Bachchan is a deserving superstar ó phenomenally gifted, professional and committed to his craft," says Menon.
Menonís newest film is the unconventional Dansh. Directed by first-time director Kanika Verma, it is slated for release on August 26. Inspired by Chilean writer Ariel Dorfmanís play Death and the Maiden, the filmís narrative is located in Mizoram on the eve of the signing of an epochal peace accord between MNF supreme Laldenga and the then Indian Prime Minister, Rajiv Gandhi. Did he have to do any special homework for the role? "No," he says. "I do not believe in doing any research unless I am playing a historical character. Had I played Laldenga, I would certainly have read up a lot. My character in the film, Michael, is fictional. I just dug into the script for inspiration," says Menon.
Also up ahead are mainstream films like Ek Khiladi Ek Hasina, co-starring Fardeen Khan, Koena Mitra and Feroz Khan, and Highway 203, in which he plays a writer accused of murdering his wife.
Clearly, Kay Kay Menon does not have to worry about unreleased films anymore.